December 3, 2011
2011-12 Season - Vikings take third at Pioneer Classic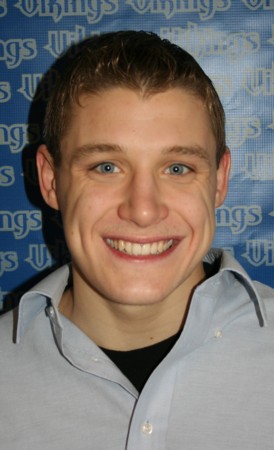 Augustana freshman Aaron Holt set a new school record in the 100 freestyle Saturday to lead the Vikings to a third-place finish at Grinnell's Pioneer Classic.
GRINNELL, Iowa-Behind freshman Aaron Holt's (Mount Vernon HS, Mount Vernon, Ill.) school-record in the 100 freestyle and freshman Josh Wielenga's (School of Environmental Study, Apple Valley, Minn.) win in the one-meter diving competition, Augustana came away with a third-place finish Saturday at Grinnell's Pioneer Classic. The hosts won the event with 1,157 points, while the Vikings' 632 points placed them just behind second-place Morningside's 644.5.
Holt's fourth-place time of :48.68 in the 100 freestyle broke the previous school record of :48.86 set by Matt Simcock in 2003. Wielenga won the one-meter diving with 344.75 points, earning Augustana 24 big points in the team standings.
Holt claimed second-place finishes in the 100 butterfly (:53.47) and 100 backstroke (:53.65), breaking previous meet records in each. His third-place 1:59.79 in the 200 backstroke also bettered the previous meet record.
In the 200 freestyle, freshman Michael Duy (Marmion Academy, Aurora, Ill.) took second with a time of 1:50.28, while sophomores Daniel Hinck (Harlem HS, Loves Park, Ill.) and Austin Zarbuck (Urbana HS, Urbana, Ill.) were third (1:51.32) and sixth (1:54.04), respectively. The trio also earned top eight finishes in the 1650 freestyle. Hinck was fifth in 18:17.83. Zarbuck was sixth in 18:21.75 and Duy was eighth in 18:48.83.
Duy also garnered a fifth-place finish in the 200 butterfly, swimming a 2:08.71 to finish one spot behind junior teammate Chris Greaves (Morris HS, Morris, Ill.), who was fourth in 2:07.53. Greaves set an Augustana season-best in the 400 individual medley with a 12th-place 4:41.99. Sophomore Ryan Chaney (Pleasant Valley HS, Bettendorf, Iowa) also set season bests with an 11th-place 2:26.59 in the 200 breaststroke and a 13th-place 1:07.13 in the 100 breaststroke.
In relay events, Holt, Greaves, Duy and Hinck were fourth in the 800 freestyle (7:22.65) and sixth in the 400 freestyle (3:20.17). Holt, Chaney, Greaves and Hinck finished eighth in the 200 medley relay in a time of 1:43.27.
On Friday, December 9, Augustana will face Loras in a dual meet in Dubuque, Iowa. Scheduled starting time is 6:00 p.m.