December 3, 2011
2011-12 Season - Number one Vikings fall for first time in 2011-12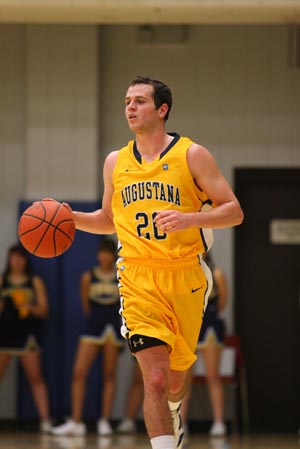 Senior Brian DeSimone had 15 points, four assists and a steal in Augustana's 71-68 loss at Washington on Saturday, December 3 in the championship game of the Lopata Classic. Along with teammate Bryant Voiles, he was named to the all-tournament team.
ST. LOUIS, Missouri - Washington rode the MVP performance of Dylan Richter to a 71-68 victory over number one ranked Augustana in the championship game of the Lopata Classic on Saturday, December 3 in St. Louis, Missouri. The loss was the first for head coach Grey Giovanine's Vikings after opening the 2011-12 season with five straight victories.
In a nip-and-tuck affair that saw five points as the largest lead either team enjoyed, the Bears used the hot hand of Richter to come away with the victory. He connected on nine of 15 field goals, including five of eight from three point range, and added four free throws. For good measure he tossed in four rebounds and had two assists.
Augustana led by three points at halftime (35-22) but this evenly matched contest saw the score tied 14 times and the lead change hands a total of 17 times before a decision was rendered between these two NCAA Division III heavyweights. Washington's biggest lead was five points (32-27 at 1:51 of the first half) while the Vikings' largest margin was four points (the last at 17:25 by a score of 43-39).
With 5:43 left to play senior Brian DeSimone (Buffalo Grove HS, Wheeling, Ill.) hit a three point field goal to tie the game 61-61. That was the 14th, and final tie of the contest. Alan Aboona gave Washington a lead it would not relinquish with a layup at 5:10 to make it 63-61. His teammate Brayden Teuscher hit a pair of free throws at 3:09 to push the advantage to 65-61.
Senior Bryant Voiles (Byron HS, Byron, Ill.) answered for Augustana with a pair of free throws at 2:45 to make it a two point contest (65-63). Richter buried a three pointer at 2:36 to bump the Bears' lead to 68-63 with 2:36 to play but DeSimone answered with a three at 2:22 to make it 68-66.
Twice the Vikings had the ball while the score was 68-66 but a missed shot and a turnover didn't help matters. Teuscher's two free throws with 26 seconds left pushed the edge to 70-66 but a layup by senior Troy Rorer (Bettendorf HS, Bettendorf, Iowa) sliced things to 70-68 with :18 left.
Richter went to the free throw line with :14 on the clock and the chance to make it a two-possession game but he could only connect on one of the two charity tosses. DeSimone's three point field goal attempt with five seconds left was no good and the game ended with Washington on top 71-68.
Augustana had four players in double figures with Voiles leading the way with 17. He was just four of 12 from the field and one of seven from three point range but was perfect on all eight of his free throw attempts. He also grabbed seven rebounds, had two assists and a steal.
He was joined in double digits by DeSimone with 15, Rorer with 12 and junior Luke Scarlata (Morton East HS, Berwyn, Ill.) with 11. DeSimone had four assists while Rorer had two assists and three steals.
The Vikings had been man-handling opponents on the boards in the first five games but could only manage a 38-35 advantage in this game. Scarlata and junior Kameron Norton (Downers Grove North HS, Downers Grove, Ill.) led the team with eight apiece.
Augustana shot just .365 (19 of 52) from the field for the game and launched 24 three point field goal attempts, making seven. The Vikings were 23 of 29 from the free throw line, however.
Besides Richter's 27 points, Matt Palucki was in double figures for the Bears with 12 points and he led all rebounders with nine.
DeSimone and Voiles were named to the all-tournament team.
The Vikings will host Fontbonne on Tuesday, December 6 at 7:30 p.m. in the Carver Center.