December 3, 2011
2011-12 Season - Balance helps in win over Agnes Scott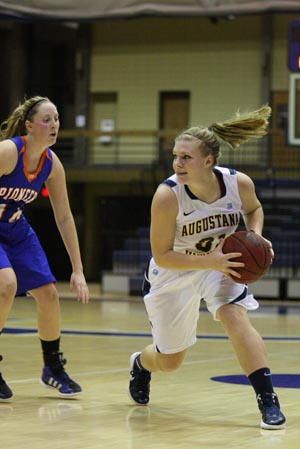 Sophomore Amy Hicks scored 10 points and grabbed five rebounds as Augustana defeated Agnes Scott 61-46 in the third place game of the McWilliams Invitational in St. Louis, Missouri. She was named to the all-tournament team.
ST. LOUIS, Missouri - Balanced scoring helped Augustana secure a 61-46 victory over Agnes Scott in the third place game of the McWilliams Invitational on Saturday, December 3 in St. Louis, Missouri. The Vikings had three players in double figures and enjoyed a huge rebounding advantage as they moved to 5-2 on the season.
Sophomore Molly Etheridge (Normal Community HS, Bloomington, Ill.) led the team in scoring with 11 points. She bounced back nicely after being shut out the night before in a 70-47 loss to number one ranked Washington. She was four of nine from the floor, including one three point field goal, and was two of two from the free throw line. She managed to grab four rebounds as well.
Senior Natalie Runge (St. Dominic's HS, O'Fallon, Mo.) and sophomore AMy Hicks (Rockford Christian HS, Rockford, Ill.) each scored 10 points. Runge was four of 10 from the floor and two of four from the free throw line while Hicks went four of five from the field and was perfect on both free throws. Runge grabbed a team-high six rebounds and Hicks pulled down five.
Hicks was named to the all-tournament team at the McWilliams Invitational for her play in both games for the Vikings. She had six points, five rebounds, three assists and a steal the night before against Washington.
Augustana held a huge 40-18 advantage in rebounding, including 14 on the offensive end. The Vikings also shot .521 (25-48) from the floor and .750 (9-12) from the free throw line.
Senior Allison Scaggs (Petersburg-Porta HS, Petersburg, Ill.) came off the bench to lead the team in assists with five while junior Gianna Pecora (Downers Grove South HS, Darien, Ill.) contributed four.
Genefine Sapateh was the leading scorer for Agnes Scott, now 2-5) with 17 points.
Augustana will try to improve on its 5-2 record, the best start ever for head coach Bobbi Endress, with a trip to Robert Morris-Springfield on Tuesday, December 6 with tip-off set for 7:00 p.m.