December 2, 2011
2011-12 Season - Vikings sit in second place at Pioneer Classic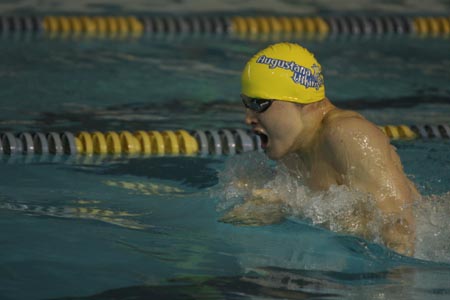 Freshman Aaron Holt placed in two individual events and two relays to help Augustana finish the first day of the Pioneer Classic at Grinnell College in second place of 13 teams.
GRINNELL, Iowa - Several tremendous performances helped Augustana vault into second place after the first day of competition at the Pioneer Classic in Grinnell, Iowa on Friday, December 2. The Vikings tallied 203 points through the first six events and trail only host Grinnell (347) in the 13-team meet.
Freshman Josh Wielenga (School Environmental Study HS, Apple Valley, Minn.) won the three meter diving event with a score of 363.00 points to account for the lone Augustana victory on the evening.
Freshman Aaron Holt (Mt. Vernon HS, Mt. Vernon, Ill.) placed in two individual events and two relays. He was third in the 200 individual medley with a time of 1:59.14, which was under the existing meet record. he was also fourth in the 50 freestyle in :22.19.
In the 200 freestyle relay Holt led off a team that included junior Chris Greaves (Morris HS, Morris, Ill.), freshman Michael Duy (Marmion Academy, Aurora, Ill.) and sophomore Daniel Hinck (Harlem HS, Loves Park, Ill.). That unit placed fourth with a time of 1:29.16. The 400 medley relay team of Holt, freshman Kyle Miller (Riverside-Brookfield HS, Riverside, Ill.), Greaves and Hinck took sixth in 3:45.99.
Hinck was also sixth in the 500 freestyle in 5:02.84 while Duy took eighth in the same event in 5:06.31.