December 2, 2011
2011-12 Season - Vikings fall at 12th-ranked Washington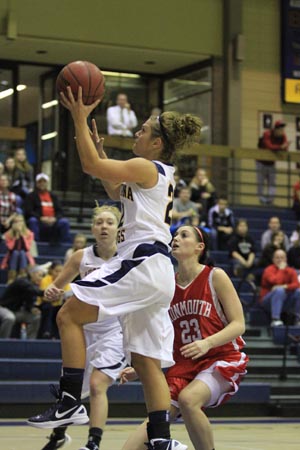 Junior Gianna Pecora led the Vikings with 11 points in the loss at 12th-ranked Washington on Friday, December 2 in St. Louis, Missouri.
ST. LOUIS, Missouri - For the first 13 minutes of the game Augustana hung right with 12th-ranked Washington on Friday, December 2 in St. Louis, Missouri. The Bears lived up to their lofty status, however, and eventually pulled away for a 70-47 victory in the first round of the McWilliams Classic.
After a basket by sophomore Chaney Tambling (Dwight HS, Dwight, Ill.), the Vikings trailed by just two points (19-17) with 7:33 to play in the first half.
However, a 17-8 run by the Bears to close out the half gave Washington an 11 point lead (36-25) at intermission.
Augustana made a surge early in the second half, scoring the first six ponts to cut the lead to five (36-31) with 17:48 to play. Baskets by Gianna Pecora (Downers Grove South HS, Darien, Ill.), Amy Hicks (Rockford Christian HS, Rockford, Ill.) and Natalie Runge (St. Dominic HS, O Fallon, Missouri) cut that halftime advantage. The Bears then scored the next eight points to build the advantage back to 13 (44-31) with 15:58 to play.
The Vikings did manage to get the margin back to seven (44-37) with a basket by Kristina Howard (Cherokee Trail HS, Aurora, Col.) at the 13:57 mark. Washington put on a 14-4 run over the next five minutes and with 8:57 left the lead was back up to 18 (59-41).
Pecora was the lone Augustana player in double figures as she scored 11 while Washington got 24 from Dani Hoover and 11 out of Melissa Gilkey.
The Bears held a decisive 44-26 advantage in rebounding. Hicks topped the Vikings in that department with five.
Augustana, now 4-2 on the season, will play Agnes Scott College at 2:00 p.m. on Saturday, December 3 in the third place game. Washington, which moved to 5-1, will face Wisconsin Lutheran for the championship at 6:00 p.m.