December 2, 2011
2011 Season - 2011 FOOTBALL REVIEW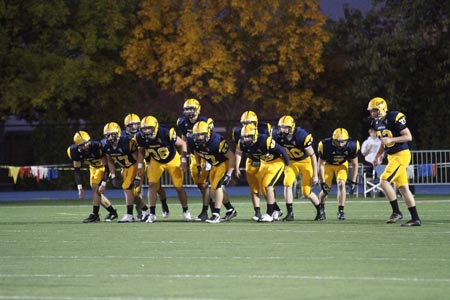 Close games were the rule for the Augustana Vikings in the 2011 season, the first under the direction of first year head coach Rob Cushman.
The Augustana football team finished the 2011 season 2-8 overall and tied for fifth in the College Conference of Illinois & Wisconsin at 2-5. Three of the team's losses were to NCAA playoff qualifiers and a fourth came at the hands of an 8-2 Adrian team. Senior Quarterback David Lee (Springfield HS, Springfield, Ill.) closed the book on a record-setting career and long-time Viking assistant and former head coach Tom Schmulbach wrapped up a remarkable 30-year stint on the Augustana sidelines.
Despite a tough season which included several excruciatingly narrow defeats, the Vikings continued traditions of academic and athletic excellence. Lee was named a semifinalist for the William V. Campbell Trophy. Sophomore linebacker Erik Westerberg (York HS, Elmhurst, Ill.) earned first team academic all-district and second team academic All-America honors from Capital One and CoSIDA. In addition, seniors Lee, Kelly Clennon (Joliet Catholic HS, Naperville, Ill.) and Ben Hall (University HS, Normal, Ill.) were chosen to play in the 2011 Tazon de Estrellas (Bowl of the Stars) on Saturday, December 17 in Puebla, Mexico. Clennon was the Vikings' starting center this season and Hall started the year at free safety before injuries in the secondary forced a move to cornerback.
Augustana opened the season with a rare Thursday night contest at Ericson Field against a Dubuque team that would go on to finish 9-2, win the Iowa Intercollegiate Athletic Conference and reach the NCAA Division III playoffs. A pair of fourth-quarter turnovers proved costly as the Vikings fell to the Spartans 18-13. The Augustana defense held the high-powered Dubuque offense to 18 points and 373 total yards. In their other 10 games this season, the Spartans averaged almost 44 points and over 500 yards of total offense per contest.
The Vikings dropped a 31-23 decision on the road at Central before returning home to face Adrian. The Bulldogs got a 45-yard Logan Mitseff field goal with no time on the clock to hand Augustana a 17-14 defeat. The Viking opened CCIW play the following week by hosting Millikin. Again, a late field goal resulted in an Augustana loss. This time it was Austin Brettschneider hitting a 37-yarder with one second left to lift the Big Blue to a 30-27 win.
Coach Rob Cushman's club then hit the road for Naperville, Illinois and a date with the nation's 6th-ranked team and eventual CCIW champion, North Central. In one of their best performances of the year, the Vikings trailed the Cardinals just 10-3 with under six minutes to go. They had North Central pinned at its own two-yard line and facing third-and-13. Unfortunately, the Cardinals converted and went on to complete a 95-yard touchdown drive to make it 17-3. An interception return for a touchdown in the last minute made the final 24-3.
The Vikings got their first win of the season, 19-13 over Carthage at Ericson Field and followed that up with a 27-24 homecoming win over North Park. In that game, Augustana was decked out in special gold jerseys, the first time since 1983 the Vikings had sported gold tops. Westerberg made 14 tackles, including 13 solo, against North Park to earn CCIW Defensive Player of the Week honors.
After a 36-7 loss at Wheaton, Augustana dropped another heartbreaker to Elmhurst at home. Trailing 28-21 late in the fourth quarter, Lee led the Vikings on a 95-yard drive that was capped off when he connected with senior A.J. Hoger (Cary-Grove HS, Cary, Ill.) for a touchdown from two yards out and 41 seconds remaining. However, on the ensuing two-point conversion, Danny Hess' (Naperville North HS, Naperville, Ill.) pass fell incomplete in the end zone, allowing the Bluejays to escape with a 28-27 win.
Augustana wrapped up the season with a 34-12 loss at Illinois Wesleyan.
Statistically, the Vikings averaged 17.2 points and 286.1 total yards per game in 2011, while allowing 25.5 points and 390.1 yards per contest.
This year's defense was led Westerberg, a first team All-CCIW honoree, who recorded a team-high 106 tackles—72 of which were solo stops. He finished eighth in the nation in solo tackles and tied for 34th in total tackles. In CCIW play, he led the conference in both total and solo stops with 72 and 51, respectively. Seniors Hess and Shane Holl (Batavia HS, North Aurora, Ill.) and junior Joe Weber (Marmion Academy, South Elgin, Ill.) tied for the team lead in tackles for loss with five each. Weber, a second team All-CCIW selection, was the Vikings' leader with five sacks and three fumble recoveries. Hall and freshman Bo Goshorn (Romeoville HS, Romeoville, Ill.) each intercepted a pair of passes to tie for the team lead.
On offense, Lee finished the year with 165 completions in 282 attempts (58.5%) for 1,713 yards, giving him three of the top four single-season passing yardage totals in Augustana history. He threw for nine touchdowns and was intercepted seven times. He finished his career as a holder of eight school passing and total offense records. He set career records for pass completions (515) and attempts (839) as well as single-season marks for passing yards (2,411), pass completions (195), pass attempts (317) and total offense (2,665). Each of the season records was set in 2010. In addition, Lee holds single-game standards for pass completions, with 28 (achieved on three occasions) and passing yards, with 429.
Senior wide receiver Zachary McCullough (St. Charles North HS, St. Charles, Ill.) was the team's leading receiver this season with 34 catches for 409 yards. His 2011 reception total is tied for the 10th-best single season mark in school history and he finished sixth in career receptions with 81 and fifth in career receiving yards with 1,329. He was a second team All-CCIW selection this year. Senior tight end Keith Abbey (Rich East HS, Park Forest, Ill.), with 26 catches for 285 yards and four touchdowns and sophomore Nick Krantz (Moline HS, Moline, Ill.), with 24 grabs for 299 yards and three scores, were Lee's other top targets.
The running game was led by junior Brett McWilliams (Hononegah HS, Roscoe, Ill.), who carried 109 times for 427 yards and five touchdowns. Hoger was next with 161 yards on 36 carries, followed by sophomore Eric Chandler (Cary-Grove HS, Cary, Ill.) (41-155-2 TD's), Lee (67-154-4) and freshman Antonio Owens (Naperville North HS, Naperville, Ill.) (29-129).
Junior Arnie Fitzwater (Union HS, Waterford, Wis.), a first team All-CCIW pick, led the conference in punting with a gross average of 41.0 yards per kick in league play and a net average of 36.9. Overall this season, Fitzwater posted averages of 40.5 yards gross (12th in the nation) and 36.0 net (which placed Augustana sixth in the nation as a team).
Schmulbach closed the book this year on a tremendous 30-year career at Augustana. He joined coach Bob Reade's staff in 1982 and helped guide the Vikings to five consecutive appearances in the Amos Alonzo Stagg Bowl and an unmatched four straight NCAA Division III national championships. He took over as head coach in 1995 after Reade's retirement and led the team to a 34-13 (.723) record and two conference championships in five years. A bout with cancer forced him to step away from coaching in 1999, but he returned to the Viking staff as an assistant in 2002. In 28 seasons on the Augustana sidelines, Schmulbach was a part of 15 CCIW championships and 223 wins against just 66 losses and one tie.
2011 AUGUSTANA FOOTBALL SUPERLATIVES
INDIVIDUAL AWARD WINNERS
WILLIAM V. CAMPBELL TROPHY SEMIFINALST – David Lee, QB (One of 127 players in all NCAA & NAIA divisions)
2011 TAZON de ESTRELLAS (Bowl of the Stars) TEAM STARS & STRIPES: Kelly Clennon, OC; Ben Hall, DB; David Lee, QB, Zach McCullough, WR
CCIW ALL-CONFERENCE SELECTIONS – First team: Erik Westerberg, LB; Arnie Fitzwater, P…Second team: Zach McCullough, WR; Joe Weber, LB
CCIW PLAYERS OF THE WEEK – 10/24/11 – Erik Westerberg, LB vs. North Park
CoSIDA ACADEMIC ALL-AMERICA – Erik Westerberg, LB, second team
CoSIDA ACADEMIC ALL-DISTRICT – Erik Westerberg, LB, first team
D3FOOTBALL.COM ALL NORTH REGION – Erik Westerberg, LB, second team & Arnie Fitzwater, P, second team
CCIW ACADEMIC ALL-CONFERENCE – John Draminski, Ben Hall, Carl Hartweg, Ben Hodges, A.J. Hoger, Mike Kautz, Sean Lanham, David Lee, Tim Maroder, Zach McCullough, Mitch McGilliard, Caleb Nickels, Andrew O'Reilly, Nate Pena, Pete Schimeck, Joe Spindler, Greg Sprinkle, Jason Wagner, Dody Wickenhauser
SCHOOL RECORDS
INDIVIDUAL CAREER PASS COMPLETIONS – 515, David Lee, 2008-11 (breaks previous record of 424 by Ken Anderson, 1967-70)
INDIVIDUAL CAREER PASS ATTEMPTS – 839, David Lee, 2008-11 (breaks previous record of 827 by Ken Anderson, 1967-70)
ADDITIONS TO AUGUSTANA'S TOP TEN LISTS
SINGLE SEASON PASSING YARDS – 1,713 (David Lee – 4th place)
SINGLE SEASON PASS RECEPTIONS – 34 (Zach McCullough – T-10th place)
CAREER PASSING YARDS – 5,854 (David Lee – 2nd place)
CAREER PASS RECEPTIONS – 81 (Zachary McCullough – 6th place)
NCAA STATISTICAL RANKINGS TEAM – TOP 25
NET PUNTING – 6th @ 36.00 net yards per punt
FEWEST PENALTIES AGAINST – 25th @ 4.30 per game
NCAA STATISTICAL RANKINGS INDIVIDUAL – TOP 25
SOLO TACKLES – Erik Westerberg, 8th @ 7.20 per game
PUNTING – Arnie Fitzwater, 12th @ 40.50 yards per punt
CCIW STATISTICAL LEADERS – TEAM
PUNTING – 36.9 net yards per punt
RED ZONE OFFENSE – 88.9%
CCIW STATISTICAL TOP FIVE – INDIVIDUAL
TOTAL OFFENSE – David Lee, 5th @ 178.3 yards per game
INTERCEPTIONS – Bo Goshorn and Ben Hall, T-4th @ 0.29 per game
KICK OFF RETURNS – Antonio Owens, 5th @ 16.5 yards per return
PUNTING – Arnie Fitzwater, 1st @ 41.0 yards per punt
PAT KICKING PCT. – Brady Rogers, T-5th @ 80.0%
TACKLES – Erik Westerberg, 1st @ 10.3 per game
FUMBLE RECOVERIES – Joe Weber, T-3rd @ 0.29 per game
PASSES DEFENDED – Ben Hall, 5th @ 0.71 per game
TEAM AWARDS
MOST VALUABLE PLAYER - Erik Westerberg
MOST VALUABLE OFFENSIVE PLAYER – David Lee
MOST VALUABLE DEFENSIVE PLAYER – Erik Westerberg
MOST VALUABLE SPECIAL TEAMS PLAYER – Arnie Fitzwater
JERRY FRECK AWARD – Cody Wickenhause
MOST VALUABLE NEWCOMER - Antonio Owens