2012 Season - Kris Kistler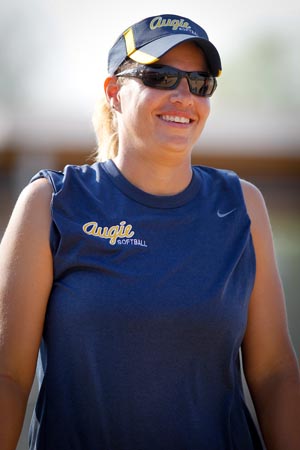 Kris Kistler has been the head softball coach at Augustana College for the past 13 years and she has established the Vikings as a legitimate power in both the College Conference of Illinois & Wisconsin and NCAA Division III. She has guided the Blue & Gold to 13 straight non-losing seasons, something that had never happened before around the Augustana campus. The Vikings have also won at least 30 games in five of the last nine years and six times since 2000.
Three times in the last nine years Kistler has led the Vikings to the CCIW tournament championship and four times her teams have qualified for a berth in the NCAA Division III national tournament. In 2004 she guided Augustana to the first conference championship in softball in school history and the Vikings were 36-9 and placed third in the NCAA Great Lakes Regional. Augustana set a total of 10 school records in that historic 2004 campaign. The 2006 team was 33-10 overall, won the CCIW with a 13-1 overall mark, and swept the conference tournament en route to earning a host spot for the NCAA Great Lakes Regional. Eight school records fell in 2006. The 2007 team went 30-14, finished second in the conference regular season and won the CCIW tournament to again advance to the NCAA playoffs. Eight new school records were established in 2007.
Sandwiched between the 2004 and 2006 seasons was a fine 33-12 campaign in which the Vikings were 11-3 in the CCIW and finished second in the conference tournament. The 2008 team went 26-18, finished fourth in the conference regular season, and advanced to the CCIW Tournament title game. In 2009 Augustana was 28-14 overall and 9-5 in the CCIW. 2010 marked another successful season for the Vikings as they compiled a 31-15 record en route to a second place finish in the CCIW tournament and a berth in the NCAA Division III national tournament, their first since 2004. The 2011 Vikings finished the season 19-19 despite losing a majority of their lineup to graduation the previous year. A youthful Augustana team rebounded in 2012 and posted a 25-13 record.
Kistler wasted no time getting the Vikings turned around after inheriting a program that had enjoyed just one winning season in the previous eight years. After being hired in September of 1999 to replace longtime head coach Diane Schumacher, she was left with precious little time to get ready for the 2000 season. It didn't seem to matter as she led her team to a school record for victories in a single season with a 30-15 overall mark. Included in that was an 8-6 record in the College Conference of Illinois & Wisconsin and a championship in the Augustana Invitational. That team was loaded with seniors and it looked like 2001 would be a rebuilding year for the Vikings, but Kistler managed to guide them to a 23-20-1 record.
In 2002 her team finished 27-15 and placed third in the CCIW, both in regular season play and in the tournament. At the time the 27 victories tied for the second highest total in school history with teams from 1980 (27-9) and 1996 (27-14). The 2003 squad was 26-14-1 overall and 8-6 record in the conference.
In 12 seasons at Augustana she has compiled a record of 367-188-2 for a winning percentage of .661 and her CCIW mark is 113-69 (.621) in that same time span. Since she started she has coached 42 first team all-conference performers and 43 all-region selections. Twice, in her first season of 2000 and again in 2004, she has been named the CCIW "Coach of the Year" and in 2006 and again in 2007 the Augustana coaching staff was named "Coaching Staff of the Year."
After graduating from Monmouth High School in Monmouth, Illinois, Kistler went on to have a fine collegiate career at Eureka College in Eureka, Illinois where she helped the Red Devils to a career record of 91-57 including a school record 30-7 mark in 1996. Eureka was in the NAIA playoffs three years and Kistler made the 1994 NAIA all-district tournament team. She was named her team's Best Defensive Player in 1996 and she graduated with a career batting average of .346 with a single season high of .394 in 1996.
A multiple sport athlete, she also played basketball for four years at Eureka and was an all-conference selection in 1994-95 in the Chicagoland Collegiate Athletic Conference. She was team MVP and co-captain in 1995-96.
After graduation from Eureka she went to Illinois State University where she obtained her master's degree in 1998 in Health, Physical Education and Recreation with a specialization in Exercise Physiology. During that time she served as an assistant softball coach at Illinois Wesleyan University where she helped lead the Titans to a 52-25 overall record and the 1997 College Conference of Illinois & Wisconsin championship.
Kistler spent the 1998-99 school year as the head coach as Plattsburgh State University in Plattsburgh , New York where she was charged with starting a varsity program. She led her team to a 9-10 season in the Cardinals inaugural campaign. She also served as an assistant coach in basketball. In addition to her duties as head softball coach at Augustana, Kistler also serves as the senior women's administrator for the athletic department.
KISTLER'S SOFTBALL COACHING RECORD
| | | | | | | | | |
| --- | --- | --- | --- | --- | --- | --- | --- | --- |
| | OVERALL | | | | CCIW | | | |
| YEAR | W | L | T | .PCT | W | L | .PCT | SCHOOL |
| 1999 | 9 | 10 | 0 | .474 | | | | Plattsburgh State (NY) |
| 2000 | 30 | 15 | 0 | .667 | 8 | 6 | .571 | Augustana |
| 2001 | 23 | 20 | 1 | .534 | 7 | 7 | .500 | Augustana |
| 2002 | 27 | 15 | 0 | .643 | 8 | 6 | .571 | Augustana |
| 2003 | 26 | 14 | 1 | .640 | 8 | 6 | .571 | Augustana |
| 2004 | 36 | 9 | 0 | .800 | 11 | 3 | .786 | Augustana |
| 2005 | 33 | 12 | 0 | .733 | 11 | 3 | .786 | Augustana |
| 2006 | 33 | 10 | 0 | .768 | 13 | 1 | .929 | Augustana |
| 2007 | 30 | 14 | 0 | .682 | 11 | 3 | .786 | Augustana |
| 2008 | 26 | 18 | 0 | .591 | 8 | 6 | .571 | Augustana |
| 2009 | 28 | 14 | 0 | .667 | 9 | 5 | .643 | Augustana |
| 2010 | 31 | 15 | 0 | .674 | 8 | 6 | .571 | Augustana |
| 2011 | 19 | 19 | 0 | .500 | 5 | 9 | .357 | Augustana |
| 2012 | 25 | 13 | 0 | .658 | 6 | 8 | .429 | Augustana |
| @ AUGUSTANA | 367 | 188 | 2 | .661 | 113 | 69 | .621 | |
| OVERALL | 376 | 198 | 2 | .655 | | | | |