November 30, 2011
2011-12 Season - Vikings fall to Elmhurst in battle of ranked teams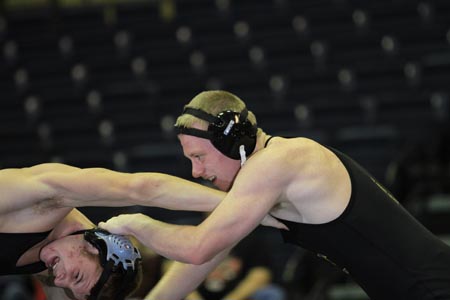 Matt Burns moved his record to 8-5 with an 8-4 victory over Yousef Al-Ghoul in the 165 pound weight class as 27th ranked Augustana fell to 12th ranked Elmhurst on Wednesday, November 30 in Elmhurst, Illinois.
ELMHURST, Illinois – In a battle between a pair of nationally ranked NCAA Division III wrestling teams, Augustana fell to Elmhurst 29-12 at Faganel Hall on Wednesday, November 30. Coming into the match the Vikings were ranked 27th in NCAA Division III and the Bluejays were 12th.
A forfeit at 125 and major decisions at 133 and 141 gave Elmhurst a 14-0 lead after the first three weight classes. Augustana got on the scoreboard when senior Alberto Quiros (Morton East HS, Cicero, Ill.) defeated Ryan Earley at 149 pounds. With the victory Quiros is now 9-4 for the season.
The Vikings got a win at 165 when junior Matt Burns (Naperville Central HS, Naperville, Ill.) beat Yousef Al-Ghou 8-3. Burns is 8-5 this year.
After the 184 pound match, Augustana trailed 29-6 but rallied with victories in the final two weight classes.
Sophomore Jordan Richardson (Grandville HS, Wyoming, Mich.) beat Danny Vargas 10-3 at 197 pounds and freshman John Schraidt (Riverside-Brookfield HS, Riverside, Ill.) beat Mike McNeil 8-6 in overtime at 285. Richardson moved to 8-2 and Schraidt now has a team leading 11 victories against just two defeats.
Elmhurst moved to 3-0 on the year while Augustana fell to 1-1.
Augustana will be off this weekend before getting back into action on Thursday, December 8 with a double dual meet against Central of Iowa and Simpson in Indianola, Iowa. The Vikings will then travel to Naperville, Illinois on Saturday, December 10 for the North Central Invitational.
ELMHURST 29, AUGUSTANA 12
125 – Mark Johnson (E) wins by forfeit
133 – Dalton Bullard (E) beat Steve Poffenberger (A) 13-1
141 – Jake Denhof (E) beat Greg Gogonas (A) 16-2
149 – Alberto Quiros (A) beat Ryan Earley (E) 7-3
157 – Mike Grice (E) beat David Tessiatore (A) 8-1
165 – Matt Burns (A) beat Yousef Al-Ghoul (E) 8-4
174 – Danny Balderas (E) pinned Connor Cummings (A) @ 2:14
184 – Joe Rau (E) pinned Seth Whan (A) @ 2:52
197 – Jordan Richardson (A) beat Danny Vargas (E) 10-3
285 – John Schraidt (A) beat Mike McNeil (E) 8-6 in overtime