November 29, 2011
2011-12 Season - Voiles' 38 leads top-ranked Vikings to win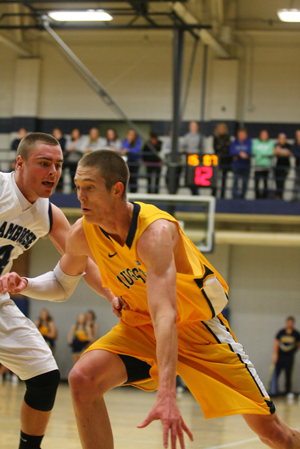 Senior co-captain Bryant Voiles scored a career-high 38 points Tuesday night to go along with 10 rebounds and four steals as top-ranked Augustana held off St. Ambrose 83-75 at Lee Lohman Arena.
DAVENPORT, Iowa-Bryant Voiles (Byron HS, Byron, Ill.) scored a career-high 38 points Tuesday night, including 29 in the second half, to lead top-ranked Augustana to an 83-75 win over St. Ambrose at Lee Lohman Arena. The Vikings improve to 4-0 on the season while the Bees fall to 3-5.
The 93rd meeting between the Quad City rivals was a back-and-forth affair featuring eight ties and 14 lead changes. St. Ambrose held its final lead of the night at 55-53 with 10:16 left when Voiles was fouled on a three-point attempt. The senior co-captain knocked down all three freebies to give the Vikings the lead and added a three-pointer 24 seconds later to push the advantage to four.
By the time Voiles hit three of four free throws in the final 20 seconds to ice the contest, he had scored 18 points in the final 10:16 to bring his total to 29 for the half and 38 for the game. Meanwhile, Bee freshman Nicholas Frazier matched him nearly shot-for-shot down the stretch, scoring 19 points of his own over the final 11:10.
The second-half offensive fireworks were in stark contrast to a physical first half which saw each team commit double digits in turnovers and shoot less than 35 percent from the field. A traditional three-point play by Chris Anderson (West Carroll HS, Mt. Carroll, Ill.) with 42 seconds left gave the Vikings a 32-31 edge at the break. Junior center Luke Scarlata (J. Sterling Morton HS, Berwyn, Ill.) led the Vikings with 10 points in the opening 20 minutes.
Justin Blondell's three-pointer on the opening possession of the second half gave the hosts the lead. The Vikings regained it briefly on a Troy Rorer (Bettendorf HS, Bettendorf, Ill.) bucket with 18 minutes left, but St. Ambrose got it right back on a Chris Donnelly three. Voiles scored with 16:34 left to tie it at 41, then came up with one of his game-high four steals and another trey to give Augustana a 44-41 advantage at the 15:40 mark. There were three more lead changes in the next four minutes before Voiles' three free throws put the Vikings ahead for good.
In addition to his game highs in points and steals, Voiles also grabbed a team-high 10 rebounds. He finished the night nine of 16 from the field, six of 11 from behind the arc and 14 of 18 from the free throw line. Rorer added 11 points, eight rebounds, five assists and three blocks. Scarlata finished with 10 points and the Vikings got seven points, six rebounds and a huge rebound dunk from Kameron Norton (Downers Grove North HS, Downers Grove, Ill.). Frazier led St. Ambrose with 26 points. Donnelly added 18 and Mike Kennedy had 12 points and a game-high 13 rebounds.
The Vikings, who today climbed to the top spot in the D3hoops.com Top 25, now travel to St. Louis, Missouri to compete in Washington University's Lopata Classic. Augustana will face Wisconsin Lutheran on Friday, December 2 at 4:00 p.m. Depending on the outcome of that game and the other semifinal, the Vikings will play Saturday against either the hosts or Whittier at 4:00 p.m. or 8:00 p.m.