November 29, 2011
2011-12 Season - Three pointer at buzzer stops win streak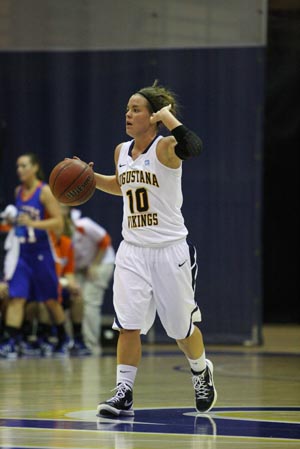 Senior Whitney Miller scored a team high 14 points with eight rebounds in Augustana's 59-56 loss to Wisconsin-Platteville on Tuesday night. She also had three assists and one steal and was good on all six free throws.
Liz Lawinger drained a three point field goal at the buzzer with two Augustana defenders draped all over her to lift Wisconsin-Platteville to a 59-56 non-conference victory over the Vikings on Tuesday, November 29 in the Carver Center. The heart-breaking defeat was the first of the season for head coach Bobbi Endress' team, which had tied a school record for best start with four straight victories.
In the early going it was all Augustana as the Vikings broke out to a 20-2 lead at the 11:09 mark of the first half following a three point field goal by senior Allison Scaggs (Petersburg-Porta HS, Petersburg, Ill.). At halftime the Augustana advantage was still a sizeable one at 33-16.
The visitors outscored the Vikings 30-13 in the first 13 minutes of the second half and with 7:13 left to play in the game finally tied the score at 46-46 on a basket by Lawinger. The two teams played fairly even down the stretch.
With 2:00 on the clock UW-Platteville went ahead 54-50 on a basket by Ashley Henry. Augustana cut it to 54-52 on a field goal from Whitney Miller (Clinton HS, Clinton, Iowa) and tied it at 54-54 with 1:10 remaining on two free throws from Amy Hicks (Rockford Christian HS, Rockford, Ill.).
Platteville moved back in front 56-54 with :48 left when Henry picked off an offensive rebound and laid it back in. The Vikings tied the score with just four seconds left on a bizarre play. Senior Elizabeth Phillips (Grayslake North HS, Lake Villa, Ill.) was trying to enter the ball to senior Natalie Runge (St. Dominic HS, O'Fallon, Ill.) in the post. However, the pass went over Runge's head and into the waiting arms of Hicks who scored with just :04 left.
Platteville did not call time out and Lawinger hurried the ball up court. She was closely guarded and threw up a shot that went in on a line from beyond the three point arc as the buzzer sounded.
Neither team shot the ball well for the game as Platteville hit at a .348 (23-66) clip and Augustana was held to a .296 (16-54) percentage. However, the Pioneers shot .586 (17-29) in the second half and that proved to be the difference as they outscored the Vikings 43-23 in the final 20 minutes.
Miller led Augustana with 14 points and eight rebounds and added three assists and one steal. Junior Gianna Pecora (Downers Grove South HS, Darien, Ill.) added 13 points and seven rebounds. The Vikings enjoyed a 48-37 advantage in rebounding.
Claire Poad led Platteville in scoring with 18 points and Henry had 12.
UW-Platteville moved to 3-4 on the year while Augustana fell to 4-1.