November 28, 2011
2011-12 Season - Runge named Player of the Week in CCIW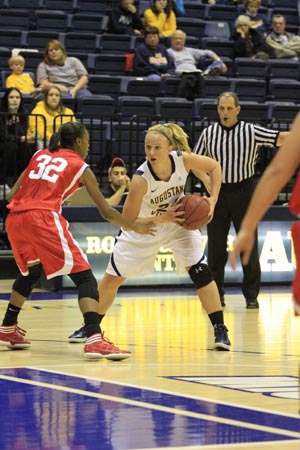 Senior Natalie Runge was selected as the "Player of the Week" in the CCIW after scoring 21 points and grabbing five rebounds in a 70-62 win over Webster on Saturday, November 26.
Augustana senior Natalie Runge (St. Dominic HS, O'Fallon, Mo.) has been selected as the "Player of the Week" in the College Conference of Illinois & Wisconsin for the week ending November 27. Runge was tremendous in the Vikings' 70-62 victory over Webster on Saturday, November 26 at home in the Carver Center.
She scored a game high 21 points and pulled down five rebounds to help Augustana to its fourth victory of the year without a defeat. In the win over Webster Runge had a pair of key steals down the stretch and she scored the basket that put her team ahead 60-58 with 3:35 left in the game. She was also good on three of four free throws in the final minute to help hold off the Gorloks.
Runge hit on seven of 10 from the field and seven of eight from the free throw line against Webster. She added two steals and an assist.
Through four games this season Runge is the second leading scorer on the team with an 11.0 average. She is shooting .517, with 15 field goals in 29 attempts, from the field and has connected on 14 of 16 free throws (.875). She is averaging 4.8 rebounds (19 in four games) and has added seven assists and four steals.
Augustana is 4-0 for the first time since the 1986-87 team started that way. For the Vikings of head coach Bobbi Endress, a victory on Tuesday night at home over Wisconsin-Platteville will be a new school record for most successful start of a season.
Runge, the daughter of Joan and Gary Runge of O'Fallon, Missouri, is a biology major.