November 22, 2011
2011-12 Season - 16-0 run lifts Vikings past UW-Oshkosh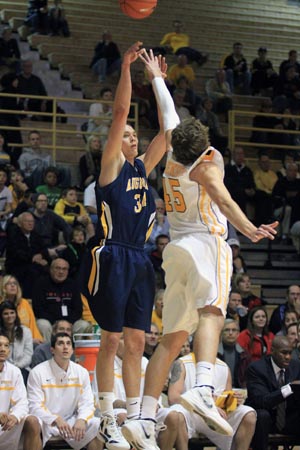 Bryant Voiles scored 21 points to lead second ranked Augustana to an 80-72 road victory over Wisconsin-Oshkosh on Tuesday, November 22. It was a pair of three point field goals by Voiles midway through the second half that keyed a crucial 16-0 run by the Vikings.
OSHKOSH, Wisconsin - Senior Bryant Voiles (Byron HS, Byron, Ill.) dropped in back to back three point baskets during a crucial 16-0 run to help key Augustana's 80-72 non-conference victory at Wisconsin-Oshkosh on Tuesday, November 22 in the Kolf Center in Oshkosh, Wisconsin. Voiles finished with a game high 21 points but it was the two three pointers that proved to the spark that the second ranked Vikings needed in their first road game of the 2011-12 campaign.
After opening the year with lopsided home victories over Aurora (102-68 on November 15) and St. Norbert (79-48 on November 19), head coach Grey Giovanine's team was locked in a struggle with the Titans. After leading 44-40 at halftime, Augustana was outscored 16-7 in the first six minutes of the second half and at the 14:00 mark trailed 56-51.
Over the next 3:22 however, the Vikings put on a burst that proved to be the difference in the game. The run started with a basket by junior Brandon Kunz (Lake Zurich HS, Lake Zurich, Ill.) at 13:44 that trimmed the margin to 56-53. A basket by Brian DeSimone (Buffalo Grove HS, Wheeling, Ill.) at 13:17 brought the Vikings to within one (56-55).
Junior George Dexter (Bettendorf HS, Bettendorf, Iowa) scored on a conventional three point play at 12:46 to give Augustana a 58-56 advantage. Voiles then nailed a three point basket at 11:47 to make it 61-56 and at 10:57 he drilled another to make it 64-56. Senior Troy Rorer (Bettendorf HS, Bettendorf, Iowa) finished the run with an old-fashioned three point basket to make it 67-56 with 10:38 left in the game.
Voiles led all scorers in the game with 21 points as he was seven of 11 from the floor, including three of five from three point range, and perfect on all four free throws. He managed to grab four rebounds, had two steals, one assist and one blocked shot. He was joined in double figures by junior center Luke Scarlata (Morton HS, Berwyn, Ill.) with 12 points on six of eight shooting with four rebounds and a blocked shot.
DeSimone had nine points, four assists and a steal while Rorer and Kunz each had eight points. Rorer had three assists, three blocked shots and two steals.
The Vikings shot .538 (28-52) from the field and were 21 of 26 (.808) from the free throw line. They held a 30-24 advantage in rebounding with Voiles, Scarlata, DeSimone and Rorer each taking a share of the lead with four apiece.
John Flanigan led UW-Oshkosh in scoring with 19 points while Jade Royston had 14 and Martell Hutchinson was also in double figures with 12. The Titans stayed close thanks to some outstanding work at the free throw line where they converted on 18 of 22 (.818).
Augustana will be off this coming weekend and will be back in action again on Tuesday, November 29 with a battle across the Mississippi River against Quad City neighbor St. Ambrose. That game will have a 7:30 p.m. tip-off.
The Vikings move to 3-0 on the season while UW-Oshkosh drops to 0-2.