Lecture to reveal man who coined the word 'genocide'
November  22, 2011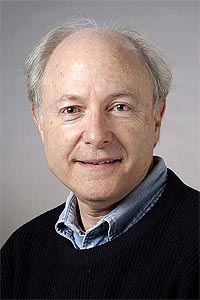 Dr. Robert Skloot
The man who coined the word "genocide" will be the subject of a lecture and reading by professor and playwright Dr. Robert Skloot at 7 p.m. on Monday, Dec. 5, in Wallenberg Hall inside the Denkmann Memorial Building, 3520 7th Ave.
The free public lecture and reading are sponsored by the Center for the Study of Pluralism and the Civil Sphere at Augustana College with funding from the Institute for Leadership and Service.
The event, titled "Raphael Lemkin in History and On Stage: A Lecture and Dramatic Reading," will focus on the life of Polish-Jewish lawyer Raphael Lemkin. Dedicated to creating legal protections for ethnic, national, religious and cultural groups, Lemkin coined the word "genocide" and his obsession to stop genocide led to the adoption of the United Nations treaty against genocide.
The dramatic readings will be taken from Dr. Skloot's one-act play, titled If the Whole Body Dies: Raphael Lemkin and the Treaty Against Genocide.
When describing his play, Dr. Skloot said, "The play dramatizes the personal and professional life of Raphael Lemkin on the day before his death in 1959 … And it explores Lemkin's human qualities and assesses the controversial legacy of this extraordinary twentieth century 'unofficial man.'"
Dr. Skloot is a retired professor of Jewish Studies and Theatre and Drama at the University of Wisconsin-Madison, and also former chair of the Theatre and Drama department at the University of Wisconsin-Madison. He is the author of many books and articles on the Holocaust and an editor of anthologies of plays about the Holocaust and genocide. Among his notable achievements, Dr. Skloot has been a Fulbright Professor of Theatre and Drama to Israel, Austria, Chile and the Netherlands.
Dr. Skloot's visit to Augustana is timed to occur during the week of Dec. 10, honoring the anniversary of the passage of the Universal Declaration of Human Rights (UDHR) in 1948. According to United Nations, UDHR is "the foundation of international human rights law, the first universal statement on the basic principles of inalienable human rights, and a common standard of achievement for all peoples and all nations."
Sam Schlouch
Senior Communication Director
(309) 794-7833
samschlouch@augustana.edu