November 22, 2011
2011 Season - All Star game tabs three Vikings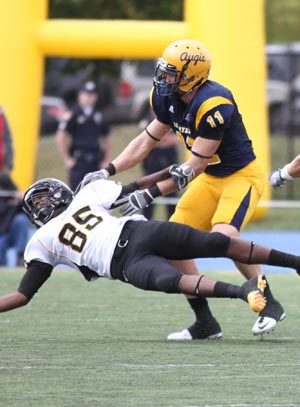 Senior defensive back Ben Hall was one of three Vikings who was selected to be on the NCAA Division III All Star team that will play CONADEIP All Stars from Mexico in the Tazon de Estrellas (Bowl of the Stars) in Puebla, Mexico on December 17. He will be joined by teammates Kelly Clennon and David Lee.
Three Augustana senior football players have been selected to play in the 2011 Tazon de Estrellas (Bowl of the Stars) on Saturday, December 17 at the 5,000 seat El Tempo del Dolor (The Temple of Pain) in Puebla, Mexico. A total of 49 players from 27 NCAA Division III colleges have been selected to face the CONADEIP All Stars from Mexico, it was announced today. Defensive back Ben Hall (University HS, Normal, Ill.), offensive lineman Kelly Clennon (Joliet Catholic HS, Naperville, Ill.) and quarterback David Lee (Springfield HS, Springfield, Ill.) will represent Augustana in the game and former Viking head coach Jim Barnes will serve as the running backs coach.
Bill Manlove, who enjoyed an outstanding coaching career at several NCAA Division III schools, most notably Widener University, will be the head coach. He has selected a unit that will consist exclusively of NCAA Division III all-stars and the current roster size of 49 could grow to 54 players with the addition of some players from teams that lost in the first round of the playoffs last Saturday.
Lee was a three year starter at quarterback for Augustana and he finished his career as the holder of eight school passing and total offense records. He set career records for pass completions (515) and attempts (839) as well as single-season marks for passing yards (2,411), pass completions (195), pass attempts (317) and total offense (2,665). Each of the season records was set in 2010. In addition, Lee holds single game standards for pass completions, with 28 (achieved on three occasions) and passing yards, with 429.
In 2011 he completed 165 of 282 passes for 1,713 yards with nine touchdowns and just seven interceptions. A team captain, he had a completion percentage of .585 and a quarterback efficiency rating of 115.10. He was one of just 127 senior football players from across the nation, in all divisions, to be named as a semifinalist for the 2011 William V. Campbell Trophy by the National Football Foundation.
Clennon, a fifth year senior, was the starting center in all 10 games and was the lone returning starter on the offensive line heading into the 2011 season.
Hall was a four year starter in the secondary, playing three years at safety before moving to cornerback this season. He was fourth on the team in total tackles with 45 (31 solo and 14 assists). He had two interceptions, four pass breakups, two tackles for loss and one fumble recovery.
Barnes compiled a record of 79-34 (.699) in 11 seasons as the head coach at his alma mater before tendering his resignation following the 2010 campaign. His teams went 56-21 (.727) in the CCIW and won league titles in 2001, 05 & 06. The Vikings went to the NCAA Division III playoffs in 2001 & 2005. He will coach the offensive backs for the Division III All-Stars for the second consecutive season.