Dr. Eboo Patel will talk on interfaith leadership
November  21, 2011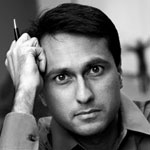 Dr. Eboo Patel
In a world too often convinced of the inevitable clash of civilizations, how do we lead our communities of faith to work with people from different religious and philosophical backgrounds and serve the common good? Dr. Eboo Patel will discuss this and other questions related to interfaith leadership in a lecture on Thursday, Dec. 1, at 10:30 a.m. in Centennial Hall (3703 7th Ave.). This free public lecture is supported by the Augustana College Institute for Leadership and Service.
The lecture, titled "Acts of Faith: Interfaith Leadership in a Time of Global Religious Crisis," focuses on the qualities of an interfaith leader and how to bring people together to build understanding and cooperation. As the founder and president of Interfaith Youth Core, a Chicago-based organization with a mission to build the global interfaith movement, Dr. Patel believes religion is a bridge of cooperation rather than a barrier or division.
Inspired by his faith as a Muslim, his Indian heritage and his American citizenship, Dr. Patel said, "People of all ages need to be involved in interfaith work, but young people have a particularly important role to play."
Dr. Patel received his doctorate in sociology of religion from Oxford University, where he studied on a Rhodes Scholarship. He is the author of the award-winning book Acts of Faith: The Story of an American Muslim, the Struggle for the Soul of a Generation and regularly contributes to The Washington Post, USA Today and CNN. Dr. Patel also has served on President Obama's inaugural Advisory Council for the White House Office of Faith-based and Neighborhood Partnerships, and he was named one of America's Best Leaders of 2009 by US News & World Report.
Dr. Patel's talk is one of five events tied to the efforts of the Interfaith Understanding organization at Augustana College. Interfaith Understanding is promoting five events in November and December to help Augustana students learn about other faiths. The events, which began on Nov. 17 and will continue until Dec. 15, include a fast to raise awareness of hunger and poverty in the Quad Cities and a celebration of Hanukkah. For details about the Interfaith Understanding events, go to www.augustana.edu/interfaith
Sam Schlouch
Senior Communication Director
(309) 794-7833
samschlouch@augustana.edu