Traditional Swedish holiday events offered Dec. 13
November  21, 2011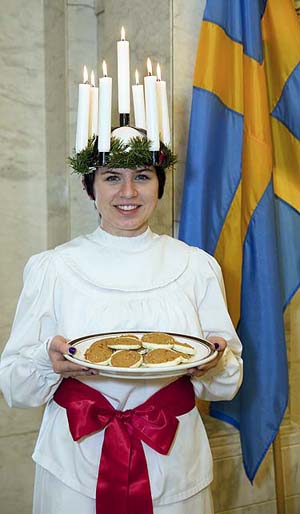 Emily Cochran, a senior majoring in Scandinavian studies and German, will play the role of Lucia this year. (Augustana Photo Bureau/Marla Alvarado Neuerburg)
Community members are invited to attend two Swedish cultural events at Augustana on Dec. 13:
A Swedish Christmas julsmörgåsbord in the College Center Dining Room, 3750 7th Ave., at 5:15 p.m.
A celebration of the festival of Sankta Lucia at 7 p.m. in Wallenberg Hall in Denkmann Memorial Hall, 3520 7th Ave.
These annual Christmas celebrations are hosted by the Augustana College Scandinavian Department and the American Scandinavian Association. Guests are welcome and encouraged to attend both events.
The tradition of the julsmörgåsbord began in Sweden in the 14th century. Today, Christmas julsmörgåsbords are held around the world as an important remembrance of the Scandinavian culture.
Traditional foods for a Swedish julsmörgåsbord include ham, cold fish or meat slices, Swedish meatballs, casseroles and a variety of breads and cheeses.
The Christmas julsmörgåsbord costs $12 for adults and $6 for children. Tickets may be purchased at the door.
The festival of Sankta Lucia, or Feast of Saint Lucy, is a Scandinavian holiday that dates back to the time of the Vikings and the Roman Empire. During the festival, one young female is chosen to play the role of Lucia, a tradition that Augustana chooses to honor in its ceremony. Emily Cochran, a senior majoring in Scandinavian studies and German, will play the role of Lucia this year.
The jultomte will be Erek Bell, a sophomore majoring in Scandinavian studies and geography. The jultomte is a modernized version of the ancient tomte from folklore.
The Sankta Lucia celebration also will feature traditional songs and stories by Augustana's Swedish-language students and light refreshments.
The celebration of the festival of Sankta Lucia is free.
Sam Schlouch
Senior Communication Director
(309) 794-7833
samschlouch@augustana.edu