November 20, 2011
2011-12 Season - Vikings 3-0 after win at Colorado College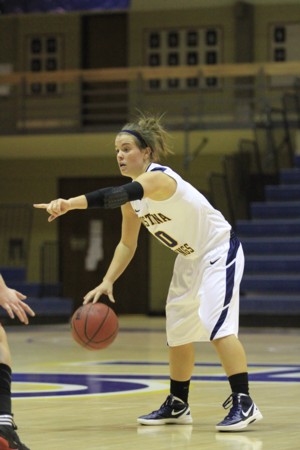 Senior point guard Whitney Miller scored 12 points and added four rebounds and a pair of assists to lead Augustana to a 60-56 win over Colorado College Sunday in Colorado Springs, Colorado.
COLORADO SPRINGS, Colo.-Whitney Miller's (Clinton HS, Clinton, Iowa) 12 points led a balanced Augustana attack Sunday as the Vikings moved to 3-0 on the year with a 60-56 win over the hosts at the Colorado College Tip-Off Tournament. Coach Bobbi Endress got at least six points from seven different players in the win, which gives Augustana its first 3-0 start to a season since Diane Schumacher's 1986-87 team started 4-0.
The Vikings had seven different players score as they jumped out to a 16-5 lead with 8:49 left in the first half. The Tigers battled back and cut the lead to 22-21 on a Shelby Hansen bucket with 2:23 remaining in the opening stanza.
A medical issue with one of the officials caused intermission to occur with 2:19 showing on the first half clock. When the teams returned from the break, Augustana got a field goal from senior Kristina Howard (Cherokee Trail HS, Aurora, Colo.) and a free throw from classmate Natalie Runge (St. Dominic HS, O'Fallon, Mo.) to go up 25-21. Jordy Stephenson's three-pointer cut the advantage to one again, eight seconds before the official halftime buzzer.
The Vikings built that 25-24 halftime lead due, in large part to holding the Tigers to .300 shooting (nine of 30) from the field in the opening 20 minutes.
Stephenson scored less than a minute into the second half to give Colorado College its first lead of the contest at 26-25. A conventional three-point play by junior Gianna Pecora (Downers Grove South HS, Darien, Ill.) regained the lead briefly for the Vikings, but the Tigers responded with a 12-2 run to take their biggest advantage at 38-30 with 14:47 left.
Augustana still trailed by eight, 51-43, with just over six minutes remaining, but four points from sophomore Amy Hicks (Rockford Christian HS, Rockford, Ill.) led an 11-3 Viking run that tied the game at 54. Miller's three-pointer with 2:05 on the clock knotted the score. A pair of Miller free throws with 43 seconds left gave the Vikings the lead for good at 57-56 and Runge converted two of two freebies with four seconds left to seal the victory.
Although Miller was the only Viking to reach double digits, there was excellent balance behind her. Pecora and Hicks scored eight each. Runge and sophomore Molly Etheridge (Normal Community HS, Bloomington, Ill.) each scored seven and sophomore Chaney Tambling (Dwight HS, Dwight, Ill.) and senior Allie Scaggs (Porta HS, Petersburg, Ill.) each finished with half a dozen.
In addition, six Vikings snared at least four rebounds, led by Pecora's six, as Augustana won the battle of the boards 42-31. Endress' squad shared the ball effectively as well, recording 14 assists on its 21 field goals with Etheridge, Pecora and Scaggs dishing out three each.
Off to its best three-game start in 25 years, Augustana returns home to face Webster at Carver Center on Saturday, November 26. Tip-off is schedule for 2:00 p.m.