November 19, 2011
2011-12 Season - Vikings place six wrestlers at Concordia Open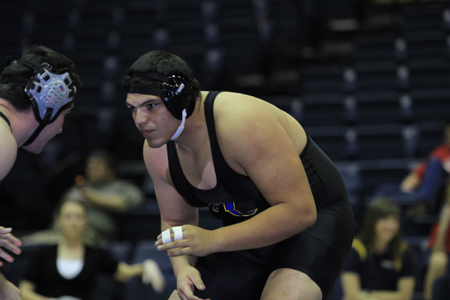 Augustana 285-pounder Abe Duran captured a fourth-place finish at Saturday's Concordia Open in Mequon, Wisconsin. Duran was one of six Viking place-winners, including freshman John Schraidt, who finished third at 285.
MEQUON, Wis. - Although it is still early in the 2011-12 wrestling season, the 21st ranked Augustana Vikings saw some stiff competition at the Concordia Open in Mequon, Wisconsin on Saturday, November 19. There were no team scores kept, but led by freshman 285-pounder John Schraight (Riverside-Brookfield HS, Riverside, Ill.), six of head coach Eric Juergens' crew came away with places in the meet, which featured some of the best small college teams in the Midwest.
The top performances came in the 285-pound weight class where Schraight placed third and sophomore Abe Duran (East Aurora HS, Aurora, Ill.) finished fourth.
Schraidt opened the day with a pin at 6:50 against Chris Hurst of Wabash and then defeated Cody Van Donkelaar of Muskegon 5-2. He was pinned in the quarterfinals by number one ranked Ryan Frank of Wartburg and dropped into the wrestlebacks. He defeated Brandon Clapper, unattached, by a score of 17-6 and beat fifth seeded Austin Karls of Milwaukee School of Engineering 8-2. An 8-5 win over sixth seeded Jake Morris of Wartburg put him in the third place match where he pinned Duran at 3:12. Duran started his day with a pin at 3:41 against Spencer George of Wisconsin-Whitewater and followed that with a pin in just 37 seconds over Karls. He lost to Frank in the semi-finals by a score of 5-2. In the wrestlebacks he pinned third seeded Brian Brooks of Elmhurst at 5:38 before losing to his teammate Schraidt by a fall.
Sophomore Jordan Richardson (Grandville HS, Wyoming, Mich.) took fourth at 184 pounds. After a first-round bye, he pinned Muskegon's Thomas Bolday in 1:15 and Wheaton's Mitchell Steed in 0:57 before dropping a 12-1 decision to top-seeded Joe Rau of Elmhurst. Richardson rebounded with a 5-3 win over Andrew Pettit of Wisconsin-Whitewater, but fell 10-4 in the third-place match to second-seeded Greg Rhoads of Wabash.
Viking senior Alberto Quiros (J. Sterling Morton HS, Berwyn, Ill.) took fifth place at 149 pounds. He started off with three wins, pinning Wheaton's Brett Alfrey, handling Ben Thome of Wisconsin-Stevens Point 12-2 and recording 17-2 technical fall win over Elmhurst's Jorge Castellanos. Quiros then dropped an 8-5 decision to second-seeded Drew Wagenhoffer of Wartburg. He bounced back with a pin of Chicago's Matt Klein at 1:20 and a 7-5 win over Robby Frias of Lakeland before Elmhurst's Ryan Early bested him 7-5. He claimed fifth place with a 3-2 decision over Wartburg's Matt Vercillo.
At 197 pounds, junior Hunter Feraco (Gull Lake HS, Battle Creek, Mich.) was a sixth-place finisher. After a bye, he recorded consecutive 5-3 wins over Dave Joniak of Illinois State and Elmhurst's Matt McNeil. He suffered an injury in his next match against Wisconsin-Platteville's Matt Scott and was forced to default and then forfeit the fifth place match to Austin O'Neal of Wabash.
The final Viking place-winner was 165-pound junior Matt Burns (Naperville Central HS, Naperville, Ill.), who brought home an eighth-place finish. He pinned Wisconsin-Parkside's Montrail Johnson in 2:28 and Pete Kootstra of Milwaukee School of Engineering in 3:23 before falling 16-5 to top-seeded Landon Williams of Wartburg. He responded by pinning UW-Whitewater's Mitch Johnson in 3:40, but lost to Loras' Mitch Gansen, the fourth seed, 13-10. Fifth-seeded Yousef Al Ghoul of Elmhurst bested Burns 15-4 in the seventh-place match.
Juergens' Vikings are next in action on Thursday, December 1, when they travel to Elmhurst for a 7:00 p.m. dual meet against the Bluejays.