November 19, 2011
2011-12 Season - Defensive effort keys 79-48 win over St. Norbert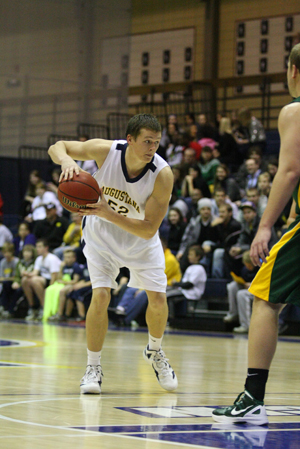 Junior Brandon Kunz scored nine points and grabbed a game-high 10 rebounds Saturday, as Augustana defeated St. Norbert 79-48 at Carver Center.
ROCK ISLAND, Ill. - A suffocating defensive effort and another big edge on the boards were the keys Saturday night as Augustana moved to 2-0 on the year with a 79-48 win over St. Norbert. The Vikings held the visitors to .255 shooting from the field and outrebounded them by a 48-32 margin. The Green Knights are now 1-1 on the season.
Five different players scored as Augustana jumped out to an 11-3 in the first five and a half minutes. Chris Anderson's (West Carroll HS, Mt. Carroll, Ill.) three-pointer from the left corner put the lead in double digits for the first time, at 26-14, with 7:43 left in the first half. Anderson's shot was part of a 14-4 Viking run over six minutes that took the lead from 21-12 to 35-16. A three-pointer from Bryant Voiles (Byron HS, Byron, Ill.) with 3:17 left in the half capped it off.
The 19-point lead was Augustana's largest of the first half and the Vikings went to intermission leading 38-22. The Green Knights converted just six field goals in 29 attempts in the opening 20 minutes, for a field goal percentage of .207.
The host kept up the defensive pressure at the start of the second half as well, holding St. Norbert without a field goal for more than seven minutes. During that time, the Green Knights field goal percentage dropped to .158 and the Augustana lead climbed to 31 points. Brandon Gries finally got the lid off for St. Norbert with a jumper at the 12:42 mark.
The visitors got as close as 22 (62-40) with eight minutes left, but the Vikings went on a 9-0 run, capped by a Griffin Dwyer (Hersey HS, Arlington Heights, Ill.) three-pointer, to push the lead back over 30.
Voiles led a balanced Viking attack with 19 points and grabbed eight rebounds as well. Anderson scored 14 points on 6-of-10 shooting, coming off the bench to reach double figures for the second straight game. Troy Rorer (Bettendorf HS, Bettendorf, Iowa) finished with 11 points, six rebounds and three assists. Brandon Kunz (Lake Zurich HS, Lake Zurich, Ill.) set a career-high in rebounds for the second straight game, grabbing a game-high 10, to go along with nine points. George Dexter (Bettendorf HS, Bettendorf, Iowa) grabbed seven rebounds as well.
Gries was the only Green Knight to reach double digits, with 13 points.
Next up for the Vikings is a trip to Oshkosh, Wisconsin to face the UW-Oshkosh Titans in a 7:00 p.m. contest on Tuesday, November 22.