November 19, 2011
2011-12 Season - Etheridge scores 18 in win over Presentation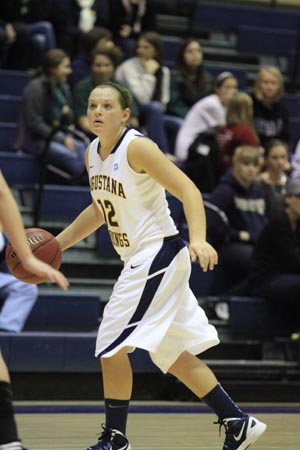 Sophomore Molly Etheridge scored 18 points and pulled down seven rebounds to lead the Vikings to a 72-45 victory over Presentation College in the Colorado College Tip-Off Classic.
COLORADO SPRINGS, Colo. - An 18 point, seven rebound performance from sophomore Molly Etheridge (Normal Community HS, Bloomington, Ill.) keyed Augustana's 72-45 victory over Presentation College on Saturday, November 19. The game was a first round contest in the Colorado College Tip-Off Classic in Colorado Springs, Colorado.
Etheridge also added seven rebounds, three assists and a steal and was the lone Viking in double figures. She shot seven of 10 from the floor, including one of two from three point range and was perfect on three free throws. Senior Dawn Kernich (Mt. Olive HS, Mt. Olive, Ill.), senior Kristina Howard (Cherokee Trail HS, Aurora, Colo.) and sophomore Amy Hicks (Rockford Christian HS, Rockford, Ill.) each added eight points to the cause.
Augustana shot .471 (32-68) from the field for the game and had a huge 48-29 advantage in rebounding. Howard, Etheridge and senior Natalie Runge (St. Dominic HS, O'Fallon, Missouri) led the board work with seven apiece.
The Vikings led 31-20 at halftime and played tremendous defense throughout the game, limiting Presentation to just .291 (16-55) from the floor.
Augustana is now 2-0 on the young season and will play Colorado College on Sunday, November 20.