Five Questions for: Dr. Van Symons
November  28, 2011
Five Questions is a series of profiles of people at Augustana College. Dr. Van Symons, professor of history, gives the answers today. If you know someone you'd like to see profiled, send his or her name and a note to sharenews@augustana.edu.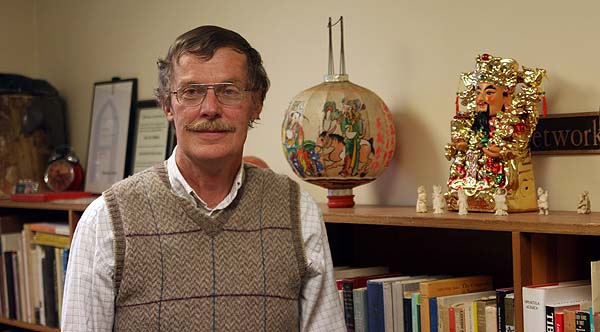 Dr. Van Symons, Augustana professor of history, in his office with memorabilia from his many trips to Asia. (Augustana Photo Bureau/Scott Cason)
This spring, professor of history Dr. Van Symons will conclude more than three decades of service at Augustana College. Dr. Symons plans to continue his work with the ASIANetwork Freeman Student-Faculty Fellows Program, a $5.7 million initiative that sends faculty mentors and students to East and Southeast Asia to conduct undergraduate research each year. He also plans to spend more time with his wife Ruth, his five grown children and new adventures in the great outdoors.
1. You've been instrumental in bringing more than $10 million in grant money to the college. What do you think has been the impact of this grant money for the Asian Studies program?
The impact has been enormous. The $549,000 "Building Bridges" grant we received from the Freeman Foundation provided funding for faculty and student research in Asia. With this grant, Dr. Jeff Coussens from the theater department and Dr. Mike Wolf from Geology were able to take students on research trips China. We were also able to work with Dr. Jon Hurty to take the Augustana Choir on tour of China. We were also able to bring faculty from Central China Normal University in Wuhan China to Augustana to teach here and send more than 50 Augustana graduates to Wuhan to teach English there. We have 12 graduates there now. The professional and personal bonds that we established in Asia endure today because of this wonderful gift.
2. What do you find compelling about this period in China's long history and what do most Americans not understand about Chinese culture and history?
The Opium War of 1839 to 1842 was waged by Great Britain to ensure the British East India Company could continue the illegal trafficking of opium into China. Years later, a Chinese convert to Christianity by the name of Hong Xiuquan, a man who believed himself to be the younger brother of Jesus Christ, precipitated the Taiping Rebellion, a civil war that led to the deaths of more than 20 million people. Americans need to realize that when the Chinese encounter us, memories of the Opium War and the Taiping Rebellion are never far from their minds.
3. What's remained the same and what has changed at Augustana over your 30 years of service?
I spent two good years working on other campuses, but I was always eager to come back to Augustana. I've only worked for two presidents and I've liked both a great deal. What's the same is the spirit of the place. It just resonates here. We have a sense of who we are here.
4. What is your favorite place on campus?
I have two favorite places. First, it's my office here in Old Main. It's been my home for more than thirty years. The Tredway Library is also a place I really love. I've always been drawn to libraries. I don't go over there and settle in any one place. I like to roam the stacks. I love the sense I get from seeing students busy and focused on what they are here to do.
5. You've logged more than 1,500 miles per year for more than 30 years riding your bike from your home across the Mississippi in Iowa to work. What has changed since you first started riding your bike to work?
When I started there was no bike path on either side of the river. Now there are paths on both sides. What's more telling and has been wonderful to discover is that there's more wildlife along the Mississippi River now than ever before. Thirty years ago I hardly ever saw a Heron-never saw a Crane. Now I see those and Pelicans, and the fishery is better than ever before. The river is coming back to life. One day in the winter last year, I counted more than 100 Bald Eagles. There's never a day now that I don't see wildlife on my morning ride.
Five Questions recently has featured: