November 2011
Nancy's 8
Guest writer Nancy Johnson '83 (advancement) takes the plan in hand.
When I read the strategic plan, I jotted down eight ideas, each representing one way I could participate in the plan's major areas. My motivation came from Appendix 4 in the online version. By my quick count, Appendix 4 shows the names of about 70 individuals across campus who developed this plan. That's compelling. When such a large and interested cross-section of our colleagues invest a year—on top of their regular responsibilities—to create an assessment of Augustana's challenges and opportunities, it certainly captures my attention and signals there's a role for each of us to play in the plan's next steps.
My eight ideas are simple for now. Some fall easily within my job description. Others don't have such an obvious link. For example, I may not serve on a task force to promote the vitality of the college's neighborhood, but could I patronize more neighborhood businesses? Am I able to speak from an informed perspective about Rock Island's neighborhoods and schools, or do I rely on rumor?
I'll continue to study the strategic plan. There will be parts I agree with and parts I question. But for now, I have eight simple ways to help test the eight imperatives of the plan, and give it energy:
1. Read our homepage regularly for stories about students' high-impact learning and Augie Choice. Share these stories with donors and raise funds for The Augustana Fund.
2. Raise funds for endowed scholarships.
3. Participate in campus discussions about capital projects and plans. Raise funds for capital priorities.
4. Pay attention to current job openings at Augie. Watch for informal opportunities to talk about the college's strengths as an employer.
5. Use my Augie pass to attend more events on campus and meet more colleagues. Learn the names of people in our campus community and greet them by name. Wear my nametag (credit goes to Anne Bergren; I finally listened!).
6. Patronize neighborhood businesses. Stay informed about Rock Island's economic development plans and progress. Learn about Rock Island's public and private schools.
7. Raise funds to support current operations, the endowment, and capital priorities.
8. Share alumni success stories with colleagues in communication and marketing.
Improv on the job
Mark Salisbury can interpret and respond to spreadsheets. It comes with his job as director of institutional research at Augustana. But with a former life doing stand-up comedy in Minneapolis, he also can think on his feet and engage a crowd with clever commentary. When Mark and his wife Lynn moved to Iowa City in 2007, he naturally gravitated toward a local improvisational theatre troupe.
Eventually, he saw the ability to improvise not only as a boon in social situations, but also a skill that could apply to one's daily work. Take, for example, librarians.
During fall break, Mark introduced the Augustana librarians to improv. Describing its benefits to communication, he told them, "People tend to panic at the word 'improv,' but we do it all the time. We don't know what we will do or say until someone asks a question. And then we don't turn and run—most of the time."
He led the group in a series of fast-paced, sometimes mind-boggling exercises. Each game stressed speed and creativity in response to vocal prompts from a partner or a group—and focused on opening new avenues for communication and problem-solving.
The final game, called "Yes/But" (a partner to "Yes/And"), pointed out the problem of "blocking" new ideas or questions. Reference librarian Amanda Makula found the experience frustrating, as it "kept narrowing all the possibilities." Mark used this exercise to promote the skill of looking for "multiple offers" in communicating with others—especially those opportunities to turn a "yes/but" into a "yes/and."
"Improv is pretty easy to improve," he said. "Just doing something is better than not doing anything at all."
As director of institutional research, Mark gathers and reports data so that as a college we all can do what we do better. In assessing learning at Augustana, he works to develop the skills or tools necessary to take advantage of the assessment results. This role, he said, "dovetails well with improvisational theatre."
Such thinking might apply to departments all across campus. Last summer, he led members of the admissions office in improv training. Director of Admissions Dane Rowley said the workshop "opened up possibilities for greater confidence, versatility and enthusiasm" as the admissions team communicates within the office, with other community members and with recruitment audiences.
If you and your office are interested, contact Mark. Working at a liberal arts college as we do, the ability to think fast and respond in kind—with good intentions and interpretations of multiple offers—is something to which we all can aspire.
Field Notes
Field Notes illustrates different kinds of experiential learning that take us places off campus. In this issue, senior men's basketball standouts Brian DeSimone and Troy Rorer, co-captains along with senior Bryant Voiles, give us some insight after playing an exhibition game against Division I Valparaiso on November 3. The Vikings are ranked second by D3hoops.com entering the 2011-12 season.
Opening the 2011-12 season against Valparaiso University was a great opportunity for our team. Leading up to the game, we followed our regular routine of preparation. Our coaching staff works very hard to get us prepared for each and every game. Prior to game day, we reviewed a scouting report and watched a film, and also simulated different scenarios that we possibly could see from Valparaiso during our game in practice.
Game day finally came; we got into the gym early to do our usual game-day shooting, and then loaded up the bus and headed to Indiana. Except for the pre-game meal, the bus rides to the games are pretty quiet. We spend time resting and thinking about the upcoming game and our personal and team assignments.
As for the game, we didn't get the start we were looking for. On our first couple possessions, we had turnovers and sent Valparaiso to the foul line. We played like a team that was playing its first game. We were down early, and they had a lot of momentum. Slowly, we battled back to get the game within a few baskets.
Halftime came and we were only down by nine—which was exciting because we felt we hadn't played that well. In the second half we still didn't play as well as we needed to win the game, but we still battled. We had many turnovers and Valparaiso was able to turn them into easy baskets. On the bright side, we out-rebounded Valparaiso by seven and guarded their offense very well in the half-court.
After the game, we were disappointed in the outcome, but we knew it was a valuable experience for our team. Even though we have many players back from last year, our team is very different and we still are trying to come together. As players, we always are looking to play top competition, and being able to play a Division I opponent was a great opportunity.
New Face on Campus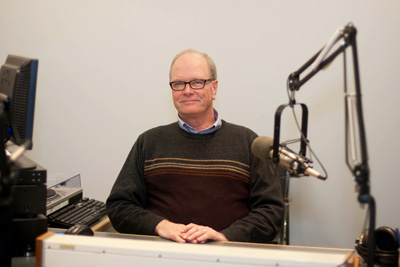 Jay Pearce, WVIK general manager
It's an interesting path that led WVIK's new general manager to Rock Island, beginning even before his birth. Jay's mother and father served in World War II and met in Hawaii. After the war, Mr. and Mrs. Pearce settled in the bustling city of Detroit, and there they welcomed three baby boys. Jay, the youngest son, fondly remembers Motor City, U.S.A.
When Jay was young, the family moved to Winnetka, a northern suburb of Chicago. Jay thought his life's ambition was to be a jet mechanic, but before long and with his father's nudging, Jay was enrolled at the University of Illinois at Chicago Circle, studying business administration. A year and a half into his undergraduate work, Jay took a radio and T.V. class that changed his trajectory again. Southern Illinois University's premier radio and T.V. program drew Jay away from Chicagoland, and he discovered his true passion for radio in Carbondale.
During college he worked for five radio stations, and since college he has worked for eight stations. With 37 years in the radio business, Jay most recently served as director of created content at Illinois Public Media in Urbana, Illinois.
Jay joined the WVIK staff on October 3, and has been "keeping a busy pace and learning every day." In fact, just two weeks into his new job, Jay helped host the station's Fall 2011 Fund Drive. (WVIK is happy to report the on-air campaign netted 97 new members and a total of $127,044.)
So, if you see Jay around campus, say hello to the wanna-be mechanic from Motor City who became a successful radio veteran.
From the Cabinet
W. Kent Barnds, Vice President of Enrollment, Communication and Planning
Two weeks ago, I spoke to participants in the campus leadership program known as the Bartholomew Institute about Affirm, Assure and Assess—the 2011 addendum to the 2005 strategic plan. I offered the observation that the addendum had lost some steam over the summer months. One reason for this is the importance of the discussion of curriculum revision, a critical focus of our attention at this time.
However, another reason I offered was that I think many on campus are waiting to be told what to do to implement Affirm, Assure and Assess. I shared with the participants that this strategic plan is different from other planning efforts, in part because it does not always neatly reflect our exact structures and systems. To illustrate: who, or which office, is specifically responsible for preparing our students to stand out? Who should advance the college's reputation?
We all have parts to play in implementing the strategic plan. Our efforts must be individual and integrated. I challenged the Bartholomew Institute participants to think about Affirm, Assure and Assess as being dependent upon each member of the community finding a way to personalize the eight imperatives of the plan and take ownership of implementation.
The challenge I issued was serious, but I was not sure how it might be received. To my delight—and to the college's benefit—one participant, Nancy Johnson, responded that very evening. She re-read the plan, personalized it and took ownership (see her story at the top).
Nancy's response has launched what I think of as "My 8." I believe each of us can identify "My 8," and I challenge everyone to do so. Soon we will launch a forum that will enable you to share yours with the broader community. What is Fred's 8? Fernando's 8? Dara's 8?
Augustana Family News
Kirsten Day (classics) and Sean Chapman became parents to second son Owen Day Chapman on March 1. Kirsten says he is "as awesome in every way as his proud big brother Harper, now 3." Also, Kirsten and Sean "legitimized things (got married)" on June 10 in Fayetteville, Arkansas.
Also on June 10, Finn Erik Burnham was born to Kurt and Jennifer Burnham (geography). Jenny says Finn is a "super smiley happy boy with a natural Mohawk these days." His 2-year-old brother, Bridger, shows his affection for Finn with all-too-frequent full-body hugs.
Penelope Clover Decker was born at home on July 30 to Carolyn Hough (anthropology) and Rob Decker. Her parents and big sister, Eleanor, think she's pretty darn cute. At 3 1/2 months, she loves to try to sit up and roll over.
After being together for 17 years, Todd Linscott and Jason Koontz (biology) celebrated a civil union in August.
Julianne Franks '08 Tongue (admissions and financial assistance) and James Tongue '09 married on October 8. They met at Augustana nearly seven years ago and said their vows in Ascension Chapel surrounded by family and friends. James is a licensed personal banker with J.P. Morgan Chase Bank and Co. in Moline.
Ryan White (Center for Vocational Reflection) and his wife Heidi, along with their boys James and Willem, would like to announce the birth of Edie Lynn White—just two days ago! Edie came a little bit earlier than expected, weighing 7 lbs., 2 oz., and measuring 18.5 inches. The Whites are grateful to have such a special blessing this Thanksgiving. They also say "thank you to the Augie community for all the care and support."
And just last night, Dennis and Mooch Gay (retiring soon from Denkmann) announced their new grandson, Benjamin Arthur Spranger, born to daughter Amber and her husband Tony Spranger. Benjamin weighed 6 lbs., 13 oz. and is 19 inches long. His older brothers Caleb and Joshua are very excited.
Seen & (Not) Heard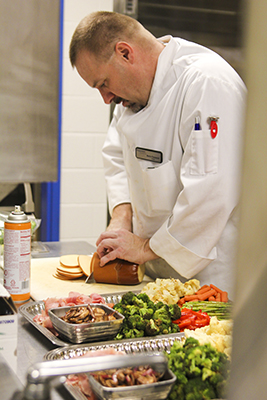 The photo of Augustana Chef Martin Fleetwood is a sample from the "behind-the-scenes at Augustana" photo documentary project belonging to senior Mark Marogil of the Augustana Photo Bureau. Mark is creating a series of images of college life behind the scenes—some quiet, others perhaps not—for the annual Augustana Sights and Sounds photography exhibition and musical performance venue this January. Watch for more information in December.
Acknowledge is published by the Office of Communication and Marketing. Contact Beth Roberts, editor. Photos in this issue were contributed by Drew Barnes '14, Mark Marogil '12 and Maren Mathisen '12 of the Augustana Photo Bureau, as well as Brandon Gittelman '12. To see the calendar of upcoming events, go to www.augustana.edu/calendar.