November 18, 2011
2011 Season - 2011 WOMEN'S SOCCER REVIEW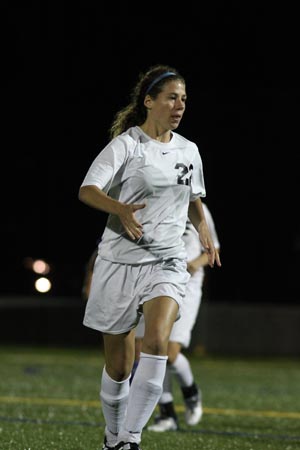 Augustana finished the 2011 women's soccer season with an 11-8-1 overall record, marking the 11th consecutive year that the Vikings have eclipsed double digits in victories.
Playing its first season at brand new Thorson-Lucken Field, coach Scott Mejia's Augustana women's soccer team finished 2011 with an 11-8-1 overall record, marking the program's 10th consecutive winning season. The Vikings also had their 10th straight winning season in conference play, finishing 4-3 and tied fourth in the CCIW.
Junior midfielder Taylor Moesle (Sandburg HS, Orland Park, Ill.) and senior goalkeeper Kayla Radloff (West Chicago HS, West Chicago, Ill.) were first team All-CCIW selections this season, while senior forwards Ashley Higuchi (Smoky Hill HS, Aurora, Colo.) and Erin Coulson (Naperville, Ill. Neuqua Valley HS, Hermosa Beach, Calif.) were named to the second team. In addition, senior forward Jessica Dodds (Linn-Mar HS, Marion, Ill.) was a first team Capital One Academic All-District honoree.
Augustana opened play at its new facility on September 1, dropping a 1-0 decision to Wartburg. Three days later though, the Vikings got their first Thorson-Lucken win and evened their record at 1-1-0 with a 3-0 win over Cornell.
The team split a pair of matches in Michigan, falling 3-2 to Hope and rebounding with a 4-1 victory over Calvin before returning home for shutout wins over Fontbonne (4-0) and Dubuque (2-0). The win over Dubuque was bittersweet, as the team's top scorer, senior Caitlin Winkelman (St. Charles North HS, St. Charles, Ill.), suffered a season-ending foot injury. She had scored all four goals in the Fontbonne match and found the net again in the second minute against Dubuque prior to the injury. Winkelman finished the season with seven goals despite playing less than six full matches.
The Vikings entered conference play at 5-3-1 after a win at Milwaukee School of Engineering, a home tie with Simpson and a loss at Loras. Carthage was the team's first CCIW opponent and a Bridget Shrigley (Wheaton Warrenville South HS, Wheaton, Ill.) goal gave Augustana a 1-0 win in Kenosha, Wisconsin. After a non-conference loss at Wisconsin-Whitewater, the Vikings moved to 2-0-0 in the league with a 1-0 win over Millikin at Thorson-Lucken.
Three straight shutout wins followed, as Augustana defeated Lawrence (4-0) and Knox (9-0) at home and then improved to 3-0-0 in the CCIW with a 3-0 win at North Park.
A showdown with CCIW co-leader Wheaton loomed on October 19 at Thorson-Lucken Field. The Vikings led 2-1 with less than four minutes remaining in regulation, but were unable to hold the lead and eventually fell 3-2 in overtime as the Thunder remained unbeaten. Just three days later, Mejia's crew made the trip to Bloomington, Illinois and suffered another heartbreaking loss, falling 1-0 to Illinois Wesleyan. The Vikings wrapped up regular season play by splitting a pair of 1-0 matches, defeating North Central on the road and losing to Elmhurst at home.
Augustana's head-to-head win over North Park, with whom it tied for fourth place, earned it the fourth seed in the CCIW tournament and a rematch at top-seeded Wheaton. This time, the Thunder handled the Vikings, ending their season with a 4-0 whitewash.
Despite missing 14 matches, Winkelman ended up tied with Moesle for the team lead with seven goals. Moesle also doled out eight assists, tied for second-most in school history, to finish with a team-high 22 points. She finishes her junior season tied for third in career assists at Augustana with 17, fifth in career points with 73 and tied with Winkelman for seventh in career goals with 28.
Coulson and Higuchi also figure prominently in Viking record book. Each scored five goals this season, giving Coulson 30 for her career (tied for fifth) and Higuchi 25 (tied for 10th). In addition, Higuchi's five assists this year pushed her career total to 16, sixth all-time at Augustana. In total points scored, Coulson (sixth with 68), Higuchi (seventh with 66) and Winkelman (tied for eighth with 65) all finish their careers ranked in the school's all-time top ten.
Shrigley, a sophomore midfielder, finished the year with three goals and three assists. Other top scorers for this year's club included freshman midfielder Taylor Navarro (York HS, Elmhurst, Ill.), who found the net four times and had one assist, and senior midfielder Jenna Doyle (Regis Jesuit HS, Parker, Colo.), who scored three goals.
Radloff, a first team All-CCIW pick for the third straight year, led a Viking defense that included a back line of seniors Megan Mummert (Crawfordsville HS, Crawfordsville, Ind.), Kelly Johnson (Homewood-Flossmoor HS, Flossmoor, Ill.) and Mary Pat Holtrop (St. Charles North HS, St. Charles, Ill.) and junior Morgan Olsen (Downers Grove North HS, Woodridge, Ill.). Junior Kirsten Boesen (Normal West HS, Gibson City, Ill.), normally a midfielder, bolstered the back line as well late in the season.
Radloff made 102 saves on the season and sported an .843 save percentage and a 1.09 goals against average.
2011 CCIW Women's Soccer Regular Season Standings
| | | |
| --- | --- | --- |
| School | Conf | Overall |
| Wheaton | 6-1-0 | 20-1-2 |
| Illinois Wesleyan | 5-1-1 | 14-4-2 |
| Elmhurst | 4-2-1 | 13-4-1 |
| Augustana | 4-3-0 | 11-8-1 |
| North Park | 4-3-0 | 8-8-1 |
| Carthage | 2-4-1 | 8-9-2 |
| Millikin | 1-6-0 | 7-8-1 |
| North Central | 0-6-1 | 7-9-1 |
2011 CCIW Women's Soccer Tournament
Wednesday, November 2, 2011
#2 Illinois Wesleyan 2, #3 Elmhurst 1 (2 OT)
#1 Wheaton 4, #4 Augustana 0

Saturday, November 5, 2011
Wheaton 2, Illinois Wesleyan 2
(Wheaton advances, 7-6, in shootout)
2011 AUGUSTANA WOMEN'S SOCCER SUPERLATIVES
CCIW ALL-CONFERENCE SELECTIONS: Kayla Radloff (1st team)…Taylor Moesle (1st team)…Ashley Higuchi (2nd team)... Erin Coulson (2nd team)
CCIW ACADEMIC ALL-CONFERENCE SELECTIONS: Jessica Dodds, Allison Frickman, Margaret Hoscheit, Jacqueline Luka, Caitlin Winkelman
CAPITAL ONE ACADEMIC ALL-DISTRICT: Jessica Dodds (1st team)
CAREER TOP TEN LIST – GOALS SCORED: Erin Coulson, T-5th with 30...Taylor Moesle & Caitlin Winkelman, T-7th with 28...Ashley Higuchi, 10th with 25
CAREER TOP TEN LIST – ASSISTS: Taylor Moesle, T-3rd with 17...Ashley Higuchi, 6th with 16
CAREER TOP TEN LIST – POINTS SCORED: Taylor Moesle, 5th with 73...Erin Coulson, 6th with 68...Ashley Higuchi, 7th with 66...Caitlin Winkelman, T-8th with 65
SINGLE SEASON TOP TEN LIST – ASSISTS: Taylor Moesle…T-2nd with 8
CCIW "PLAYER OF THE WEEK": Taylor Moesle (Offensive) & Kayla Radloff (Defensive) 10/18/11...Caitlin Winkelman (Offensive) 9/20/11
TEAM AWARDS
Most Valuable Offense - Taylor Moesle
Most Valuable Defense - Mary Pat Holtrop
Most Improved - Kimmy Grimmer
Iron Viking - Jenna Doyle