November 17, 2011
2011-12 Season - 21st ranked Vikings blast Knox 48-6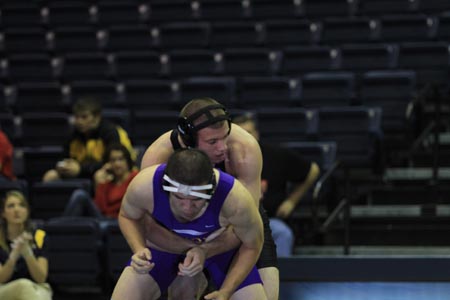 Freshman David Tessiatore (top) recorded one of three pins on the night for Augustana as the 21st ranked Vikings defeated Knox 48-6 in a dual meet in the Carver Center.
Three pins and four forfeits paved the way as Augustana, ranked 21st in NCAA Division III, opened the 2011-12 dual meet portion of its season with a convincing 48-6 win over Knox on Thursday, November 17 in the Carver Center. The Vikings trailed 6-0 after absorbing a forfeit at 125 pounds but won the last nine matches to run their all-time series record over the Prairie Fire to 21-4-1.
Trailing 6-0 after Francisco Munoz picked up a forfeit for Knox at 125, Augustana junior Steve Poffenberger (Allegan HS, Paw Paw, Mich.) evened the match with a pin at 4:39 of his 133 pound match with Mario Frye. Junior Greg Gogonas (Bowie HS, Austin, Texas) survived a wild bout at 141 pounds before winning 17-13 to give the Vikings a 9-6 lead.
Senior Alberto Quiros (Morton HS, Cicero, Ill.) picked up a forfeit at 149 and freshman David Tessiatore (Downers Grove North HS, Downers Grove, Ill.) pinned Kin Vong at the 2:09 mark of the 157 pound weight class. At 165 pounds junior Matt Burns (Naperville Central HS, Naperville, Ill.) scored a reversal late in the match to beat Greg Ventris 10-8.
The Vikings led 24-6 following Burns' pulsating win and then Connor Cummings (Downers Grove North HS, Woodridge, Ill.) at 174, Jordan Richardson (Grandville HS, Wyoming, Mich.) at 184 and Hunter Feraco (Gull Lake HS, Battle Creek, Mich.) at 197 were all awarded forfeits.
That made the score 42-6 heading into the 285 pound weight class. Sophomore Abe Duran (East Aurora HS, Aurora, Ill.) pinned James Wagner at 6:30 to account for the final score.
This was the season opener for both teams. Augustana will now be in action on Saturday, November 19 at the Concordia Open in Mequon, Wisconsin.
AUGUSTANA 48, KNOX 6
125 – Francisco Munoz (K) won by forfeit
133 – Steve Poffenberger (A) pinned Mario Frye (K) @ 4:39
141 – Greg Gogonas (A) beat Alejandro Varela (K) 17-13
149 – Alberto Quiros (A) won by forfeit
157 – David Tessiatore (A) pinned Kin Vong (K) @ 2:09
165 – Matt Burns (A) beat Greg Ventris (K) 10-8
174 – Connor Cummings (A) won by forfeit
184 – Jordan Richardson (A) won by forfeit
197 – Hunter Feraco (A) won by forfeit
285 – Abe Duran (A) pinned James Wagner (K) @ 6:30