November 16, 2011
2011-12 Season - Vikings open with a 78-73 win over Monmouth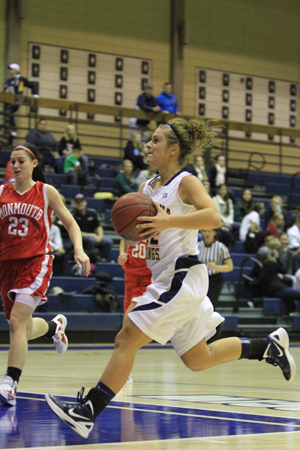 Junior guard Gianna Pecora scored 18 points and added seven rebounds, five assists and three steals Wednesday night to help lead Augustana to a season-opening 78-73 win over Monmouth at Carver Center.
ROCK ISLAND, Ill. - Sophomore Molly Etheridge (Normal Community HS, Bloomington, Ill.) scored 17 of her game-high 22 points in the second half Wednesday night as Augustana opened the 2011-12 season with a 78-73 win over Monmouth at Carver Center. Junior Gianna Pecora (Downers Grove South HS, Darien, Ill.) added 18 points for the Vikings, who are 1-0 on the young season.
Pecora scored 13 points in a first half which Augustana nearly the entire way. The Vikings' biggest lead of the opening 20 minutes came at the 12:25 mark when a steal and basket by senior Allison Scaggs (Porta HS, Petersburg, Ill.) put them up 17-7. The Scots fought back behind the long range shooting of freshman Jessica Howard and took brief leads of 30-29 and 32-31, but Pecora converted a conventional three-point play and an additional pair of free throws in the final 1:34 of the half and the Vikings took a 38-34 lead into the break.
In the first minute of the second half, Monmouth's Colleen Forrest cut the Viking lead to one after knocking down all three free throws after being fouled on a three-point attempt. For much of the rest of the half the lead see-sawed back and forth. The Scots' biggest lead was five on two occasions. The first was a 50-45 advantage at the 13:44 mark when Howard drained her fifth three-pointer of the night and they led by five again (54-49) at the 10:09 mark on a pair of Marla Willard free throws.
A trey by Pecora with 8:43 left regained the lead for the Vikings at 57-56. Monmouth took it back, 64-62 at the 6:25 mark on a Zipporah Williams basket, but Augustana responded with a 6-0 run and never trailed again. With 1:05 left and the hosts clinging to a 71-70 lead, Etheridge drained a huge three from the right side to put the Vikings up by four. Senior Elizabeth Phillips (Grayslake North HS, Lake Villa, Ill.) and Pecora each hit a pair of free throws in the final 44 seconds to seal the victory.
In addition to their big scoring nights, Etheridge and Pecora led the Vikings in rebounds with seven each. Pecora added five assists and three steals as well. Senior Natalie Runge (St. Dominic HS, O'Fallon, Mo.) joined the pair in double figures with 10 points and senior point guard Whitney Miller (Clinton HS, Clinton, Iowa) had eight points, seven assists and five steals. Phillips added eight points off the bench.
Augustana shot .510 from the field, making 26 of 51 attempts, and converted 24 of 37 free throws. The Scots kept it close by draining seven of 17 (.412) from three-point range and 18 of 19 (.947) from the free throw line.
Coach Bobbi Endress' Vikings now make the trip Colorado Springs, Colorado, where they'll face Presentation on Saturday, November 19 and Colorado College and Sunday, November 20. Starting times are scheduled for 4:00 p.m. CST on Saturday and 3:00 p.m. on Sunday.