Prof's book offers framework for ethical consumption
November  16, 2011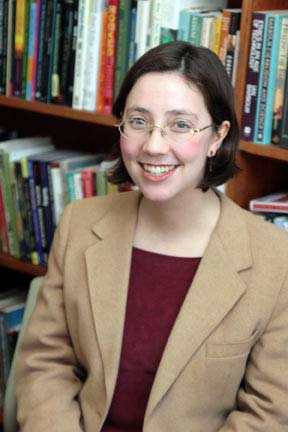 Dr. Laura M. Hartman
As the holidays approach, it's common for consumers to ponder what to buy and how much to purchase. Dr. Laura Hartman's new book The Christian Consumer: Living Faithfully in a Fragile World published by Oxford University Press, will be released Tuesday, Nov. 29. The book offers a view of consumption that draws on Christian thought from Biblical times to the present day – and it may help holiday shoppers as they stock up at the grocery store or browse the mall.
Her reflections on consumption have led Dr. Hartman, assistant professor of religion at Augustana College, to become an advocate for public transit and a regular shopper at Goodwill and the farmer's market. She encourages the gift of one's time over pricey store-bought items, and yet she fully recognizes the challenges ethical consumption presents. "As consumers in a first-world nation, Americans have myriad choices, whether it's imported vs. local produce, brand name vs. fair trade coffee or meat vs. vegetables … These choices are ethical choices, and they're difficult ones," Dr. Hartman said.
She also recognizes there are no easy answers for those trying to consume ethically. Instead of answers or even rules for consumption, Dr. Hartman provides a framework. Her framework singles out four imperatives for ethical consumption: (1) avoid sin, (2) embrace creation, (3) love the neighbor and (4) envision the future. Drawing on such examples as St. Francis of Assisi, Quaker abolitionist John Woolman, and contemporary evangelical leader Ronald Sider, Dr. Hartman sets out to define sinful consumption, explain the possible "rightness" of wealth, and examine practices that are both environmentally friendly and human-rights oriented.
Though Dr. Hartman's sources are Christian, she believes the need for ethical reflection on consumption is universal. She asks her readers to examine the often overlooked "habits, structures and choices that underlie the patterns of consumption in human lives."
After earning her bachelor's from Indiana University and doctorate from the University of Virginia, Dr. Hartman joined the Augustana faculty in 2008. Her areas of specialization include environmental, sexual, social and medical ethics.
Sam Schlouch
Senior Communication Director
(309) 794-7833
samschlouch@augustana.edu