November 16, 2011
2011 Season - Vikings finish 25th in final poll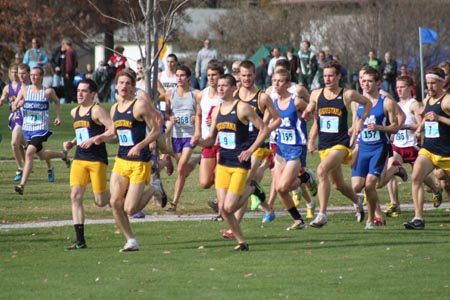 Augustana finished the 2011 men's cross country season ranked 25th in NCAA Division III.
Augustana finished in the top 25 in the NCAA Division III national cross country rankings in the final regular season poll. The Vikings finished 7th out of 39 teams in the very tough NCAA Division III Midwest Regional meet hosted at Saukie Golf Course in Rock Island, Illinois on November 12th.
Augustana accumulated 78 points in the poll, released today by the United States Track & Field/Cross Country Association, dropping from 19th to 25th place.
Veteran head coach Paul Olsen's team managed to stay in the top 25 all season, with a highest ranking of 10 th in early October. After starting the season ranked 20 th , the Vikings moved up to 12 th for two weeks and jumped to 11 th after a win at the 33-team Brissman-Lundeen Invitational in late September. The following week was their highest ranking, after which Augustana dropped to 12 th on October 12th, and fell to 19t h the week after, where it has been the past three weeks.
The final regular season poll is littered with teams from the Midwest Regional, with nine teams ranked in the top 35 in the nation. Five of these teams are ranked in the top 11 spots, including Augustana's College Conference of Illinois and Wisconsin rival North Central, which is ranked first. Washington (3 rd ), Wisconsin-Oshkosh (6 th ), Wisconsin-LaCrosse (9 th ) and another CCIW rival Wheaton (11 th ) join North Central near the top. Also in the top 35 are Wisconsin Stevens Point (19 th ), Augustana (25 th ), Wisconsin-Platteville (28 th ) and Chicago (32 nd ).
The Vikings will send one runner, Mike Tisza (Hersey HS, Prospect Heights, Ill.) , to the Division III National Championship held at Lake Breeze Golf Course in Winneconne, Wisconsin this Saturday, November 19th. The race is hosted by Wisconsin-Oshkosh, with the women's championship race being held at 11:00 AM and the men's championship race starting at 12:00 PM.
USTFCCA WEEKLY POLL #9 (as of 11/14/11)
RANK

SCHOOL

POINTS

REGION

CONFERENCE

LAST WEEK

1.

North Central (8)

280

Midwest

CCIW

1

2.

Haverford

270

Mideast

Centennial

2

3.

Washington

260

Midwest

UAA

3

4.

Calvin

259

Great Lakes

MIAA

4

5

Williams

239

New England

NESCAC

7

6.

UW-Oshkosh

235

Midwest

WIAC

8

7.

St. Lawrence

227

Atlantic

Liberty

11

8.

Middlebury

218

New England

NESCAC

16

9.

UW-LaCrosse

215

Midwest

WIAC

12

10.

SUNY-Geneseo

205

Atlantic

SUNYAC

9

11.

Wheaton (Ill.)

188

Midwest

CCIW

5

12.

Dickinson

186

Mideast

Centennial

6

13. (tie)

Bates

183

New England

NESCAC

10

13. (tie)

Wabash

183

Great Lakes

NCAC

22

15.

NYU

182

Atlantic

UAA

13

16.

Bowdoin

170

New England

NESCAC

14

17.

Nebraska Wesleyan

149

Central

GPAC

21

18.

Allegheny

137

Mideast

NCAC

33

19.

UW-Stevens Point

132

Midwest

WIAC

20

20.

21.

22.

23.

24.

25.

26.

27.

28.

29.

30.

31.

32.

33.

34.

35.

SUNY-Cortland

St. Olaf

Tufts

Colorado College

Occidental

AUGUSTANA

Hamline

Johns Hopkins

UW-Platteville

Rochester

MIT

Elizabethtown

Chicago

Claremont-Mudd-Scripps

Manchester

Brandeis

123

110

98

96

89

78

72

69

66

52

48

47

45

42

23

21

Atlantic

Central

New England

West

West

Midwest

Central

Mideast

Midwest

Atlantic

New England

New England

Midwest

West

Great Lakes

New England

SUNYAC

MIAC

NESCAC

SCAC

SCIAC

CCIW

MIAC

Centennial

WIAC

UAA

NEWMAC

MAC

UAA

SCIAC

HCAC

UAA

27

29

24

NR

26

19

25

RV

18

32

17

23

14

31

35

27