November 16, 2011
2011 Season - Westerberg, Fitzwater first team All-CCIW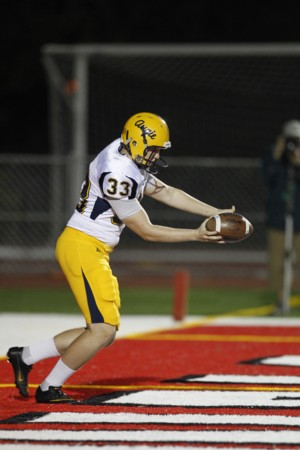 Junior Arnie Fitzwater, who ranks 12th in the nation with a 40.5 punting average, was named Tuesday to the All-CCIW first team.
NAPERVILLE, Ill. - Sophomore linebacker Erik Westerberg (York HS, Elmhurst, Ill.) and junior punter Arnie Fitzwater (Union HS, Waterford, Wis.) were named Tuesday to the College Conference of Illinois and Wisconsin all-conference first team. Senior wide receiver Zach McCullough (St. Charles North HS, St. Charles, Ill.) and junior linebacker Joe Weber (Marmion Academy, South Elgin, Ill.) were second team All-CCIW selections.
The 6-3, 211-pound Westerberg led the Vikings in tackles this season with 106, including 72 solo stops. He led the CCIW with 72 total tackles (10.3 per league game) and 51 solo stops and ranks seventh in the nation with an overall average of 7.20 solo tackles per game. He was named CCIW Defensive Player of the Week after recording 14 tackles, 13 of which were solo, in a Homecoming win over North Park on October 22. In addition, he was a first team Capital One Academic All-District selection.
Fitzwater led the conference with a gross average of 41.0 yards per kick in league play and a net average of 36.9. Overall this season, he averages 40.5 yards per punt, which ranks 12th nationally at the NCAA Division III level. He tied a 44-year old school record with a 76-yard boot against Elmhurst on November 5.
Weber, 6-2 and 240 pounds, was the Vikings' second-leading tackler this season with 48, split evenly between solo stops and assists. He was the team's leader with five sacks and three fumble recoveries and tied for the lead in tackles for loss with five.
McCullough was Augustana's leading receiver this season with 34 catches for 409 yards. His 2011 reception total tied for the 10th-best single season mark in school history. He finished sixth in career receptions at Augustana, with 81 and fifth in career receiving yards, with 1,329.
2011 CCIW All-Conference Football Team
| | | | | | |
| --- | --- | --- | --- | --- | --- |
| FIRST TEAM DEFENSE | Pos. | Ht. | Wt. | Yr. | Hometown/High School |
| Shane Dierking - North Central | DB | 5-9 | 171 | So. | Wheaton, Ill./Wheaton-Warrenville South |
| Josh McLeod - North Central | DB | 6-0 | 200 | Sr. | Lisle, Ill./H.S. |
| Brian McMullen - Wheaton | DB | 6-3 | 210 | Sr. | Oceanside, Calif./Vista |
| Josh Mitchell - North Central | DB | 6-1 | 191 | Jr. | Bloomington, Ill./H.S. |
| Scott Wenzel - Illinois Wesleyan | DB | 6-1 | 175 | Sr. | Arlington Heights, Ill./Rolling Meadows |
| Brad Fortney - Carthage | LB | 5-11 | 232 | Sr. | Antioch, Ill./Community |
| Ryan Gresko - Illinois Wesleyan | LB | 6-0 | 230 | Sr. | Woodridge, Ill./Downers Grove North |
| Scott Skuteris - North Central | LB | 5-11 | 205 | Sr. | Elmhurst, Ill./York |
| ERIK WESTERBERG - AUGUSTANA | LB | 6-3 | 211 | SO. | ELMHURST, ILL./YORK |
| Peter Bulandr - North Central | DL | 6-4 | 270 | Sr. | Long Grove, Ill./Stevenson |
| Valente Garza - North Central | DL | 6-0 | 232 | Sr. | Winfield, Ill./Wheaton North |
| Willie Hayes - North Central | DL | 6-0 | 235 | Sr. | Lemont, Ill./H.S. |
| Ryan Jenkins - Illinois Wesleyan | DL | 6-2 | 215 | Sr. | Park Forest, Ill./Rich South |
| FIRST TEAM OFFENSE | Pos. | Ht. | Wt. | Yr. | Hometown/High School |
| Garrett Meador - Wheaton | QB | 6-2 | 205 | Sr. | Fishers, Ind./Heritage Christian |
| Nick Kukuc - North Central | RB | 5-10 | 200 | Jr. | Naperville, Ill./Central |
| Scottie Williams - Elmhurst | RB | 5-6 | 170 | Jr. | Woodridge, Ill./Downers Grove South |
| Joey Driver - Illinois Wesleyan | WR | 6-1 | 175 | Sr. | Matteson, Ill./Rich Central |
| Mark Hiben - Wheaton | WR | 6-4 | 197 | Fr. | Glen Ellyn, Ill./Glenbard West |
| Teddy Watkins - Wheaton | WR/RS | 5-10 | 187 | Sr. | Washington, Mo./St. Francis Borgia |
| Kyle Fiedorowicz - North Central | TE | 6-7 | 266 | Sr. | Johnsburg, Ill./H.S. |
| Nick Capristo - North Central | OL | 5-11 | 272 | Sr. | Aurora, Ill./Waubonsie Valley |
| Charlie Homoky - Elmhurst | OL | 6-3 | 265 | Jr. | Boca Raton, Fla./West Boca |
| Dustin Moore - Millikin | OL | 6-6 | 280 | Sr. | Decatur, Ill./Maroa-Forsyth |
| Peter Stamos - Elmhurst | OL | 6-4 | 275 | Sr. | Portage, Mich./Portage Northern |
| Jace Werkheiser - North Central | OL | 6-5 | 280 | So. | Freeport, Ill./H.S. |
| FIRST TEAM SPECIALISTS | Pos. | Ht. | Wt. | Yr. | Hometown/High School |
| ARNIE FITZWATER - AUGUSTANA | P | 6-3 | 205 | JR. | WATERFORD, WIS./WATERFORD UNION |
| Scott Roche - Wheaton | K | 5-9 | 200 | Sr. | Evergreen, Colo./Faith Christian |
| | | | | | |
| SECOND TEAM DEFENSE | Pos. | Ht. | Wt. | Yr. | Hometown/High School |
| Stewart Charles - North Central | DB | 6-1 | 200 | Sr. | Batavia, Ill./H.S. |
| P.J. Cummings - Illinois Wesleyan | DB | 5-10 | 205 | Sr. | Chicago, Ill./Niles Notre Dame |
| Jon Janus - Elmhurst | DB | 5-9 | 190 | Sr. | Lake Zurich, Ill./H.S. |
| Andrew Saltzman - North Park | DB | 5-11 | 205 | Jr. | Coloma, Mich./H.S. |
| Jordan Chapman - Wheaton | LB | 5-10 | 210 | Sr. | Indianapolis, Ind./Carmel |
| Ben Houk - Illinois Wesleyan | LB | 6-1 | 220 | Sr. | Willow Springs, Ill./Lyons Township |
| Richard Jacobson - Wheaton | LB | 6-2 | 212 | Sr. | Tucson, Ariz./Catalina Foothills |
| Brandon Mecozzi - Carthage | LB | 5-10 | 198 | Jr. | Kenosha, Wis./Bradford |
| Joey Michals - North Central | LB | 6-3 | 220 | Jr. | Frankfort, lll./Providence Catholic |
| Wayne Tuckson - Elmhurst | LB | 6-0 | 220 | Jr. | Louisville, Ky./Dupont Manual |
| Peter Alfano - Elmhurst | DL | 6-0 | 270 | Sr. | Orland Park, Ill./Carl Sandburg |
| Trey Cunningham - Illinois Wesleyan | DL | 6-2 | 240 | Jr. | Springfield, Ill./Chatham-Glenwood |
| Brandon Dykstra - Wheaton | DL | 6-3 | 323 | So. | Hudsonville, Mich./Unity Christian |
| JD East - Wheaton | DL | 6-1 | 252 | Sr. | Indianapolis, Ind./North Central |
| Tyler O'Brien - Carthage | DL | 6-2 | 198 | Jr. | Cary, Ill./Cary-Grove |
| Robert Ramsay - Wheaton | DL | 6-2 | 236 | Sr. | Fredericksburg, Texas/Heritage |
| JOE WEBER - AUGUSTANA | DL | 6-2 | 240 | JR. | SOUTH ELGIN, ILL./MARMION ACADEMY |
| SECOND TEAM OFFENSE | Pos. | Ht. | Wt. | Yr. | Hometown/High School |
| Matt Holmes - Millikin | QB | 5-10 | 180 | Jr. | Wheeling, Ill./H.S. |
| Matt Hassan - North Park | RB | 5-6 | 205 | Jr. | Wheaton, Ill./Glenbard West |
| Jordan Tassio - North Central | RB | 6-1 | 210 | Jr. | Naperville, Ill./North |
| ZACH MCCULLOUGH - AUGUSTANA | WR | 6-2 | 195 | SR. | ST. CHARLES, ILL./NORTH |
| Joe Musso - Illinois Wesleyan | WR | 6-0 | 192 | Jr. | Chicago, Ill./Fenwick |
| Rodney Payton - Elmhurst | WR | 6-3 | 190 | Jr. | Bellwood, Ill./Nazareth Academy |
| Erik Tobey - Millikin | WR | 6-1 | 201 | Jr. | Herscher, Ill./H.S. |
| Griffin Gibson - Elmhurst | TE | 5-10 | 200 | Sr. | Stevensville, Mich./Lakeshore |
| Alex Haan - North Central | TE | 6-2 | 230 | Sr. | Home Glen, Ill./Chicago Christian |
| Evan Gawel - North Park | OL | 6-1 | 308 | Sr. | Warren, Mich./Cousino |
| Joe Guenther - North Central | OL | 6-1 | 275 | Jr. | Shorewood, Ill./Joliet Township |
| Trace Hummel - Illinois Wesleyan | OL | 6-2 | 265 | Sr. | Crystal Lake, Ill./South |
| Nolan Randall - Wheaton | OL | 6-3 | 250 | So. | Naperville, Ill./North |
| David Steele - Carthage | OL | 6-3 | 256 | So. | Gurnee, Ill./Carmel Catholic |
| Brett Virgil - Elmhurst | OL | 6-0 | 260 | Sr. | St. Joseph, Mich./H.S. |
| SECOND TEAM SPECIALIST | Pos. | Ht. | Wt. | Yr. | Hometown/High School |
| Tyler Rasche - North Central | P | 6-4 | 210 | Jr. | Moline, Ill./H.S. |
Bob Reade Coach of the Year
John Thorne - North Central
Art Keller Offensive Player of the Year
Garrett Meador - Wheaton
Don Larson Defensive Player of the Year
Peter Bulandr - North Central