November 15, 2011
2011-12 Season - Vikings break century mark in win over Aurora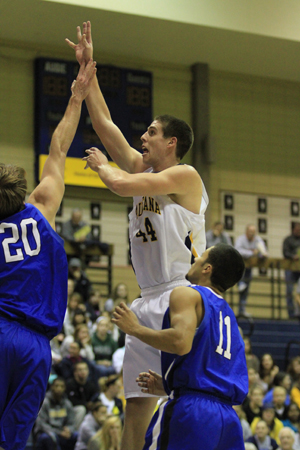 Junior center Luke Scarlata posted career highs of 19 points and 12 rebounds Tuesday night to lead Augustana to a 102-68 win over Aurora at Carver Center.
ROCK ISLAND, Ill. - Junior center Luke Scarlata (J. Sterling Morton HS, Berwyn, Ill.) had game highs of 19 points and 12 rebounds Tuesday night to lead the second-ranked Augustana Vikings to a season-opening 102-68 win over Aurora at Carver Center. Three teammates joined Scarlata in double figures as the Vikings surpassed the century mark for the first time since 2004.
Augustana jumped to an early 9-2 lead behind five points from senior co-captain Bryant Voiles (Byron HS, Byron, Ill.) and four from Scarlata. Aurora came back to forge ties at 16 and 22, but a conventional three-point play by junior forward George Dexter (Bettendorf HS, Bettendorf, Iowa) gave the Vikings a lead that they wouldn't relinquish.
With less than two minutes remaining in the half, senior co-captain Troy Rorer (Bettendorf HS, Bettendorf, Iowa) sandwiched a pair of three-pointers around two free throws, with the second trey pushing the lead to double digits for the first time at 48-37. That was as close as the Spartans would be for the rest of the night. A bucket by Dexter put the hosts up 50-37 at the break.
The advantage reached 15 on a Scarlata basket early in the second half and Dexter's put-back with 11:04 left put it at 20 for the first time, 66-46. The second of two free throws by senior Chris Anderson (West Carroll HS, Mt. Carroll, Ill.) at the 3:20 mark gave Augustana a 93-63 lead and it reached its biggest of the night, 34 points, when sophomore center Kevin Schlitter (Maine South HS, Park Ridge, Ill.) drained a three-pointer from the right wing at the final buzzer.
The last time Augustana scored 100 points was at the 2004 Russ DeVette Tournament in Holland, Michigan, when they defeated Madonna 101-80. The 102 points were the most for the Vikings since scoring 105 at Beloit in the 2003-04 season opener. The last time they scored 100 at Carver Center was in a 104-75 win over Central on December 11, 2002.
Scarlata, who had career highs in both points and rebounds, was far from the only Viking to have a big night. Rorer finished with a career-high 17 points, a total matched by Voiles, who also chipped in with seven rebounds and four assists. Anderson added 13 points and four assists off the bench. Senior co-captain Brian DeSimone (Buffalo Grove HS, Wheeling, Ill.) scored just six points, but had a career-high nine assists, a team-high three steals and no turnovers. Dexter finished with 9 points and eight rebounds and junior post player Brandon Kunz (Lake Zurich HS, Lake Zurich, Ill.) snared nine rebounds in just 17 minutes of action.
Augustana compiled a commanding 55-30 edge on the boards, including 24 offensive rebounds.
Now 1-0 on the young season, coach Grey Giovanine's Vikings are back in action on Saturday, November 19, when they'll host St. Norbert at Carver Center. Tip off for that game is scheduled for 7:30 p.m.