Liberal Arts through the AGES art exhibit opens
November  15, 2011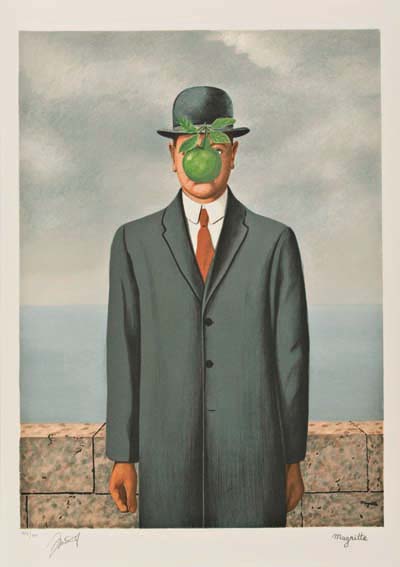 Print by René Magritte – The Son of Man.
Starting Tuesday, Nov. 15, and running through Saturday, Feb. 11, 2012, the Augustana College Art Museum (inside Centennial Hall at 3703 7th Ave.) will present the exhibition Liberal Arts through the AGES. The exhibition includes many works that have never been on display.
The free, public exhibit is part of the Augustana General Educations Studies (AGES) project, an interdisciplinary art history education model. This year's exhibit includes everything from an ancient Roman mosaic to an 1800s engraving by the official portrait artist for Queen Victoria's dogs to a contemporary Peruvian tapestry of Machu Picchu and from Henri Matisse's Blue Nude 1 to a print by René Magritte–The Son of Man–recently made popular by the film The Thomas Crown Affair.
Dr. Catherine Carter Goebel, Paul A. Anderson Chair in the Arts and professor of art history, is creator and faculty curator for this project, as well as the editor of the corresponding textbook/catalogue. In talking about the book, she said, "This is an unprecedented collaboration of over 200 essays: half by faculty and administrators and the other half by alumni and students.
"The contributed essays represent students and alumni from a variety of majors, minors and graduating classes—from 1987 to 2014—as well as faculty across the curriculum," added Dr. Goebel, who recently presented on the unique approach and co-led a faculty seminar session at the Association of American Colleges and Universities national conference in Providence, R.I.
The exhibit's accompanying textbook/catalogue is the fifth book published in seven years for the AGES project. The publications are supported by the Paul A. Anderson Chair in the Arts and the Department of Art History with assistance from the Office of the President, Academic Affairs and the Augustana College Art Museum, as well as donors who have lent and gifted pieces for exhibition.
Related to the Rembrandt etchings included in the exhibition, guest speaker Tom Rassieur, John E. Andrus III Curator of Prints and Drawings, Minneapolis Institute of Arts, will present on "Rembrandt as Printmaker." The lecture, part of the Vaky Art History Lecture Series, supported by Mr. James Russell Vaky, will take place on Wednesday, Nov. 30, in Larson Hall located in the Bergendoff Hall of Fine Arts (3701 7th Ave.), at 7:30 p.m. The lecture will be followed by a reception in the Augustana College Art Museum.
Augustana College Art Museum hours are noon to 4 p.m. Tuesdays through Saturdays. The museum will be closed Nov. 24-28 for Thanksgiving break and Dec. 16 to Jan. 9, 2012, for the holiday break. For more information, contact 309-794-7231.
Sam Schlouch
Senior Communication Director
(309) 794-7833
samschlouch@augustana.edu