Alumna's internship led to Festival of Trees job
November  15, 2011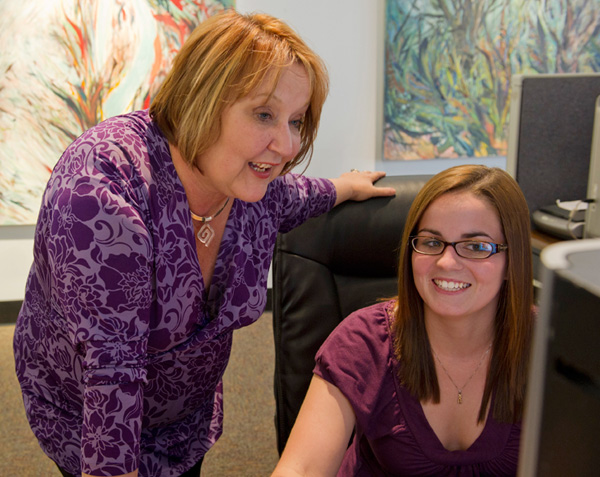 Deb McDaniel and Megan

Schoff
Fa-la-la-la. The gift of an internship led one Augustana College alumna to a very merry job opportunity in Rock Island. Megan Schoff landed a job as communications specialist for the Quad City Arts Festival of Trees thanks to her internship with the locally based, non-profit arts organization the year prior.
Schoff, a native of Rockford, Ill., explained, "Throughout the course of my internship, I discovered a passion for not only Festival of Trees, but for Quad City Arts as a whole, and maintained contact with the organization after the conclusion of my internship."
Following her May 2011 graduation, Schoff began the job hunt. In the process, she sent her résumé to Deb McDaniel, Festival staff director and her former internship supervisor, "on the off chance" that she might know of an open position with another organization. Ironically, the Quad City Arts position Schoff now holds had just opened. "I interviewed the next week and started working the week after," said Schoff.
"Because Quad City Arts already knew several things about me, like my work ethic and my personality, the transition was seamless. And I feel completely at home in my position and in the workplace," explained Schoff, who is knee-deep in plans and information about designers, parade participants, schools, volunteers, equipment needs and signage for the 11-day event. Festival of Trees 2011 begins Friday, Nov. 18.
At Augustana, Schoff was a business administration major, with marketing and management concentrations and a psychology minor. She credits the critical thinking skills she gained in the classroom and leadership abilities gained through extracurricular activities as helping her daily in the workplace.
Augustana's Coordinator of Business Internships and Instructor Karen Petersen said, "Megan is a great example of what an internships program can do for students.
"Through her internship, she found her passion, and she was a natural hire when one of the full-time positions to lead the Festival of Trees opened," added Petersen, who is proud to acknowledge that the number of Augustana business internships for students has risen from approximately 40 to 150 per year.
Schoff is one student who is certainly grateful for experiences and connections gained as an intern. Even as the pressure mounts and Festival of Trees approaches, she said this about her fresh career, "The most surprising part of my position is how much I love it. Although it can be stressful at times, I don't mind the stress. I see the bigger picture and am constantly working towards making it possible."