November 15, 2011
2011 Season - 2011-12 MEN'S SOCCER REVIEW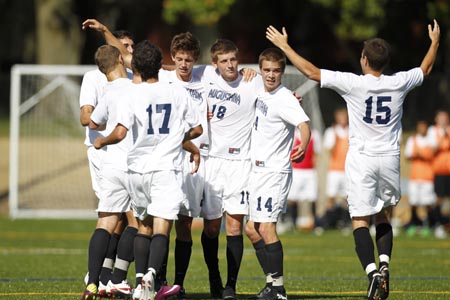 The Vikings had plenty to celebrate in 2011 as they posted a 13-6-0 record, the most wins by an Augustana men's soccer team since 2003.
Building on the excitement of competing at a brand new facility—Thorson-Lucken Field—coach Brenton Joseph's Augustana men's soccer team finished the 2011 season with a 13-6-0 overall record. The 13 victories are the most for the Vikings since the 2003 club went 13-6-1 and this year's .684 winning percentage is the highest since the school-record .825 mark (16-3-1) posted by the 2002 team.
The 2011 squad rode a defense that allowed just 19 goals in 19 games and an offense led by senior forward Sean Fidlow's (Carmel HS, Gurnee, Ill.) 13 goals. Fidlow and sophomore defender Michael Buric (Notre Dame Prep, Scottsdale, Ariz.) were each named to the All-CCIW second team.
The season opened with a 2-0 win at Grinnell. That would be the first of nine Viking shutouts on the year, one shy of the school record set during the 1989 season. The team's next match would be the first men's contest at Thorson-Lucken Field and the Vikings didn't disappoint, defeating Cornell 3-0.
After a pair of one-goal losses to St. Scholastica and the hosts at the Concordia-Moorhead tournament, Augustana responded with six straight wins. The first five of those were shutouts, including a 1-0 overtime win over 16th-ranked Dubuque. In the sixth match of the streak, a 3-1 win over Coe, the Vikings finally allowed their first goal at the new facility. It came in the fifth home date and after 419 minutes of play.
Eventual CCIW champion Carthage ended the winning streak, handing Augustana a 1-0 defeat on the road in the conference-opener. Once again, Joseph's crew bounced back with a pair of shutouts to improve to 10-3 on the year. Losses to 14th-ranked North Park and Wheaton were sandwiched around a 3-1 non-conference victory over St. Ambrose. The Vikings then dropped a key CCIW road match 2-1 at Illinois Wesleyan.
The team wrapped up the season with a pair of conference wins, beating North Central 3-1 on the road before returning home and defeating Elmhurst 3-2 in overtime to finish 3-4-0 in the league. The Vikings posted an 8-1 mark in their first season at Thorson-Lucken Field.
Fidlow was Augustana's leader on the attack this season. His 13 goals were the most by a Viking in eight seasons and tied for the most in the conference during regular season play. He tied junior midfielder Nick Wolfe (Neuqua Valley HS, Naperville, Ill.) for the team lead with six assists. Fidlow's 32 points were more than any other CCIW player prior to the start of NCAA tournament play.
In addition to his six assists, Wolfe had four goals on the year, finishing second on the team. Sophomore midfielders John McSpadden (Geneva HS, Geneva, Ill.), Matt Shipon (South Elgin HS, Elgin, Ill.) and Adam Wilson (Plainfield North HS, Plainfield, Ill.) each scored three goals. McSpadden finished the season with four assists and Shipon three. Shipon's penalty kick goal in overtime was the lone score in the Dubuque match. Freshman midfielder Nathan Kyes (Oswego HS, Oswego, Ill.) started 12 games this year and had a goal and a pair of assists.
Senior Cory DeGrave (Fremd HS, Palatine, Ill.), junior Jason Beckus (Neuqua Valley HS, Naperville, Ill.) and sophomore Evan Johnson (Glenbard South HS, Glen Ellyn, Ill.) joined Buric on the back line for the Vikings. Seniors Brett Bleecher (Marist HS, Oak Lawn, Ill.) and Kurt Negwer (Lutheran North HS, Florissant, Mo.) were also key defenders, coming off the bench for the most part. Beckus and Bleecher each had two goals and an assist this season. Bleecher's goals were the first of his four-year career and included an overtime game-winner against Elmhurst.
A trio of talented young goalkeepers represented the last line of the outstanding Viking defense. Sophomore Tyler Cowherd (Bettendorf HS, Bettendorf, Iowa) got the bulk of the minutes, with 1,021, and posted a 6-6-0 record with a 1.32 goals against average. He allowed 15 goals and made 45 saves for a save percentage of .750. Freshman Brett Johnson (Zion Benton HS, Beach Park, Ill.) logged 480 minutes in goal, allowing just three goals and recording 17 saves. He had a 5-0-0 record with a 0.56 GAA and an .850 save percentage. Sophomore Steven Zahrobsky (Downers Grove South HS, Woodridge, Ill.) was 2-0-0 with a 0.42 GAA and .833 save percentage in 216 minutes.
2011 CCIW Men's Soccer Regular Season Standings
| | | |
| --- | --- | --- |
| TEAM | CCIW | OVERALL |
| Carthage | 5-1-1 | 14-5-2 |
| North Park | 4-2-1 | 11-3-3 |
| Wheaton | 4-2-1 | 10-8-2 |
| Elmhurst | 3-2-2 | 8-7-4 |
| Illinois Wesleyan | 3-3-1 | 8-8-1 |
| Augustana | 3-4-0 | 13-6-0 |
| North Central | 2-3-2 | 10-5-2 |
| Millikin | 0-7-0 | 0-17-0 |
2011 Augustana Men's Soccer Superlatives
CCIW ALL-CONFERENCE SELECTIONS – Sean Fidlow & Michael Buric (2nd team)
MOST GOALS: Sean Fidlow (13)
MOST ASSISTS: Sean Fidlow & Nick Wolfe (6)
LONGEST WINNING STREAK: 6 matches
MOST CONSECUTIVE SHUTOUTS: 5 matches