March 28, 2011
2011 MEN'S BASKETBALL REVIEW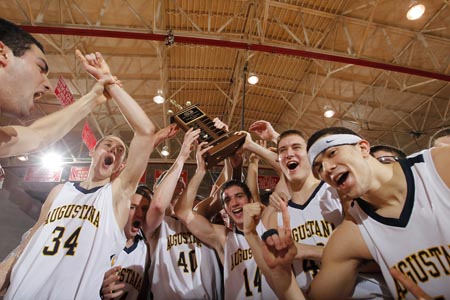 The Vikings celebrate after a 76-52 thrashing of Illinois Wesleyan in the championship game of the CCIW Tournament on February 26 in Naperville, Illinois. Augustana won both the regular season and tournament titles in the CCIW and advanced to the Elite Eight of the NCAA Division III national tournament in 2011.
Vikings grab fifth CCIW title in last nine years; Advance to Elite Eight in NCAA Division III national tournament; Tie second highest win total in school history with 27-4 record
Outside the Augustana campus, expectations weren't particularly high for the Vikings coming into the 2010-11 campaign. Coach Grey Giovanine's crew was coming off the program's first 10-loss season in a decade and picked a distant third behind Carthage and Illinois Wesleyan in the CCIW pre-season coaches' poll. Those around the program however, were optimistic that the return of everyone but Matt Pelton from last year's squad along with the addition of Bryant Voiles (Byron HS, Byron, Ill.), who missed all but three games in 2009-10 with an injury, would yield better than expected results.
The team's summer trip to Asia was a sign of things to come. The Vikings won four of five contests in China, falling only to the Chinese Junior National team—which featured four players 6'10" or taller—by a single point. Little did anyone know that loss—on August 13— would be the last the Vikings would suffer until February. Augustana went on to win its first 20 games of the season, breaking the school record for longest winning streak. The Vikings finished 27-4 overall—the second highest win total in school history—and won a share of their fifth CCIW title in the last nine seasons before capturing their third CCIW tournament championship in the six-year history of the event. Giovanine's squad reached the quarterfinals of the NCAA Division III tournament before falling to eventual national champion St. Thomas and was ranked seventh in the nation in the final D3Hoops.com poll.
The team's 2010-11 schedule didn't look very conducive to putting together a long winning streak. Augustana would play 11 games against teams ranked 21st or higher in the D3Hoops.com pre-season poll and 15 against teams that had reached the 2010 NCAA tournament.
After opening the season with an 85-66 win over Simpson on the road, the Vikings returned home for back-to-back games against 2010 NCAA tournament teams Washington University and Anderson. Augustana took care of the 20th-ranked Bears—national champions in 2008 and 2009—by a score of 78-55 and then beat 14th-ranked Anderson 74-69 behind a season-high 27 points from senior co-captain Kyle Nelson (Deerfield HS, Deerfield, Ill.).
Following a lackluster 66-59 road win over Monmouth, the Vikings came out winners in the Quad-Cities rivalry game against St. Ambrose. Augustana defeated the NAIA Division II 13th-ranked Bees by a score of 80-73. Home wins over Buena Vista (71-63) and pre-season 21st-ranked and 2010 NCAA tournament participant Wisconsin-Whitewater (70-64) followed, along with a 53-50 win at MacMurray as the Vikings improved to 8-0.
The winning streak reached 10 in DePere, Wisconsin, at the Nicolet National Bank Holiday Tournament with wins over Wisconsin-Stout (81-75) and host St. Norbert (57-56). Augustana knocked off the 12th-ranked Green Knights on their home court despite not having a single player reach double figures in scoring. Voiles was named the tournament MVP and was joined on the all-tournament team by Nelson and Kameron Norton (Downers Grove North HS, Downers Grove, Ill.). The Vikings finished the non-conference portion of the schedule with a come-from-behind 63-56 win at the University of Chicago to improve to 11-0.
There was no let up when the CCIW season started, as the team completed the first half of the conference slate 7-0. Included in those seven wins were an impressive 70-57 defeat of Wheaton—another 2010 NCAA tournament team—in a game which the Vikings led by 20 at the half, and a 58-54 win on the road against defending league champ and pre-season conference favorite Carthage. A 66-50 win over a surprising North Central team, which would go on to share the regular season title with the Vikings, pushed Augustana's record to 17-0—the best start to a season in school history. The 1935-36 club won its first 16 games. The Vikings wrapped up the first half of the conference schedule by coming from 16 points down at home to defeat Illinois Wesleyan 69-67 on Nelson's put-back with 2.8 seconds left.
After playing five of its first seven CCIW games at the friendly confines of Carver Center, Augustana faced a gauntlet of road contests in the second half, including four straight away from home to end the regular season. Ironically, after moving to 20-0 with wins over Elmhurst (73-49) and North Park (76-66), it was the final home date of the year when the streak finally ended. Carthage handed the Vikings their first loss, a 65-58 setback in front of 2,400 fans on senior night.
The Vikings rebounded to start that final four-game stretch with wins at Wheaton (80-77) and Millikin (71-51) to set up a showdown at North Central. The young Cardinals prevented Augustana from winning the outright title by grinding out a 50-46 win. The Vikings still had a chance to claim sole ownership of the regular season championship with a win in the finale at Illinois Wesleyan, but a bucket with one second left gave the Titans a 70-68 lead and the hosts survived when Nelson's three-point attempt at the buzzer bounced off the back iron.
Three days later those two setbacks seemed like ancient history as the Vikings rolled to a 73-58 win over Wheaton in the first round of the CCIW tournament in Naperville, Illinois. The 15-point margin of victory was the largest in the six-year history of the tournament. It was a record that lasted only one day however, as Augustana avenged the loss to Illinois Wesleyan four days earlier with a 76-52 win over the Titans in Saturday's championship game. The team's third CCIW tournament championship earned it the conference's automatic bid to the NCAA Division III tournament.
Carver Center hosted the first two rounds of play and the Vikings handled St. Louis Intercollegiate Athletic Conference champ Webster 76-51 in their opener to advance to face Hope in the second round. The Flying Dutchmen were champions of the Michigan Intercollegiate Athletic Association and entered the game with a 23-6 record after a first round win over Hanover. Augustana shot .667 from the field in the first half and jumped to a 10-point lead at intermission, but Hope staged a furious rally and led 74-71 before a Brian DeSimone (Buffalo Grove HS, Wheeling, Ill.) three-pointer with 4.1 seconds left tied it. With momentum on their side, the Vikings pulled away to an 88-80 win in overtime.
Augustana was chosen as a sectional site as well, with Carver Center hosting an Elite Eight game for the first time since 1981. The sectional opener matched third-ranked and 26-3 Wisconsin Stevens Point against eighth-rated and 26-3 St. Thomas. Augustana, 26-3 and ranked seventh in the nation, met 23-7 Mary Hardin-Baylor in the second sectional semifinal. St. Thomas edged UWSP 66-64 in the first game Friday night and the Vikings held UMHB to .295 shooting from the field in a 70-57 win in the nightcap. In the sectional final, St. Thomas put together an impressive performance on both ends of the court to end the Vikings' spectacular season by a score of 72-56.
Statistically, Nelson was the Vikings' leading scorer and rebounder throughout the season with averages of 13.7 points and 6.6 boards per game. He converted .514 of his field goal attempts and also ranked third on the team with 29 steals and fourth with 56 assists. He was a first team All-CCIW pick for the second straight year and D3Hoops.com had him on its pre-season All-America fifth team and named him first team All-Midwest Region following the season. He was a first team all-region selection by the National Association of Basketball Coaches as well. Nelson was also one of 10 finalists for the prestigious Jostens Trophy, a national award to honor the most outstanding men's and women's Division III basketball players of the year.
The 6-9 junior Voiles—a second team All-CCIW performer—returned from last year's injury to finish right behind Nelson in both scoring and rebounding, dropping 12.4 points and grabbing 5.8 caroms per contest. He was the Vikings' most proficient three-point shooter, connecting on 58 in 140 attempts (.414) and led the team in blocked shots as well with 24. For good measure, he finished third on the team with 71 assists. Junior point guard DeSimone, who earned third team all-conference honors, was tremendous during Augustana's post-season run and finished as the team's third-leading scorer at 9.5 points per game. He led the team in steals (37) and assists (86) and hit 47 of 127 (.370) three-point attempts.
Junior Chris Anderson (West Carroll HS, Mt. Carroll, Ill.) was the team's fourth-leading scorer at 8.1 points a game and third on the team with 34 three-point field goals. Junior guard Troy Rorer (Bettendorf HS, Bettendorf, Iowa) was the Vikings' super-sub for most of the year, averaging 6.2 points, 3.9 rebounds and hitting .347 from beyond the arc. He finished second on the team with 73 assists and 34 steals. Norton, a 6-6 sophomore forward, started nine games including the final seven and averaged 4.8 point and 3.6 rebounds while converting .590 from the floor. Senior Drew Croegaert (Geneseo HS, Geneseo, Ill.) averaged 3.9 points and connected on .357 from three-point range and .763 at the free throw line while backing up DeSimone at the point.
The rest of coach Grey Giovanine's 11-man rotation consisted of 6-4 senior guard Mike Avallone (Neuqua Valley HS, Naperville, Ill.) (1.8 ppg, .364 3p%, .800 ft%) and three more sophomore big men. 6-7 George Dexter (Bettendorf HS, Bettendorf, Iowa) started 19 games and averaged 4.4 points and 2.7 rebounds with shooting percentages of .544 from the field and .736 from the line. 6-9 Luke Scarlata (Morton HS, Berwyn, Ill.) (2.9 ppg, 2.1 rpg) shot .667 from the field and was second on the team with 15 blocked shots and 6-7 Brandon Kunz (Lake Zurich HS, Lake Zurich, Ill.) averaged 2.4 points and 2.5 rebounds a game, shooting .542 from the floor.
As a team, rebounding and defense carried the Vikings all season. They finished among the nation's leaders in field goal percentage defense (.408) and scoring defense (60.1 ppg) as well as rebound margin (+8.4 per game). Offensively, Augustana averaged 69.5 points per game on shooting percentages of .455 from the floor, .364 from three-point range and .679 from the free throw line.
2010-11 CCIW STANDINGS
| | | | | | | |
| --- | --- | --- | --- | --- | --- | --- |
| TEAM | CCIW | W-L | PCT | Overall | W-L | PCT |
| AUGUSTANA | | 11-3 | .786 | | 27-4 | .871 |
| North Central | | 11-3 | .786 | | 15-11 | .577 |
| Wheaton | | 9-5 | .643 | | 18-8 | .692 |
| Illinois Wesleyan | | 9-5 | .643 | | 20-9 | .690 |
| Carthage | | 9-5 | .643 | | 16-9 | .640 |
| North Park | | 4-10 | .286 | | 11-14 | .440 |
| Elmhurst | | 3-11 | .214 | | 8-17 | .320 |
| Millikin | | 0-14 | .000 | | 1-23 | .042 |
2010-11 CCIW TOURNAMENT
Merner Fieldhouse—North Central College—Naperville, Illinois
Semifinals—Friday, February 25
(2) AUGUSTANA 73, (3) Wheaton 58
(4) Illinois Wesleyan 69, (1) North Central 57
Championship—Saturday, February 26
(2) AUGUSTANA 76, (4) Illinois Wesleyan 52
2010-11 AUGUSTANA SUPERLATIVES
CCIW REGULAR SEASON CO-CHAMPS: 13th CCIW title—5th in the last nine years & 4th in the last six.
CCIW TOURNAMENT CHAMPIONS: Third championship in the six-year history of the tournament—only school to qualify for every CCIW tournament.
NCAA DIVISION III TOURNAMENT: 12th appearance—Reached Elite Eight (26-13 all-time, two 2nd-place & two 3rd-place finishes).
ALL-TIME D3HOOPS NATIONAL RANKING: Ranked 7th in the final poll. There have been 169 top 25 polls by D3hoops.com since the start of the 2000-01 season…During that time Augustana has been ranked in the top 25 a total of 86 times…The Vikings have either been in the top 25 or in the "others receiving votes" category in 127 out of those 169 polls...This year's team was ranked in the top 25 in all 15 polls with a high water mark of 3rd in weeks eight, nine and 11.
CCIW ALL-CONFERENCE: Kyle Nelson (First Team)…Bryant Voiles (Second Team)...Brian DeSimone (Third Team).
JOSTENS AWARD FINALIST: Kyle Nelson (1 of 10).
D3HOOPS.COM ALL-MIDWEST REGION : Kyle Nelson (First Team).
NABC MIDWEST REGION ALL-DISTRICT: Kyle Nelson (1st Team).
CCIW TEAM STATISTICAL LEADERS: Augustana led the CCIW in scoring margin (+9.1 ppg) scoring defense (57.7 ppg)... field goal defense (.404)...rebounds (37.0 rpg)...rebound margin (+7.3 per game)...offensive rebounds (12.1 per game)... defensive rebounds (24.9 per game).
2010-11 MEN'S BASKETBALL AWARDS
Most Valuable Player: Bryant Voiles
Best Defender: Troy Rorer
Leading Rebounder: Kyle Nelson
2009-10 Captain: Kyle Nelson, Bryant Voiles
2010-11 Captains-Elect: Brian DeSimone, Troy Rorer, Bryant Voiles
Junior Varsity MVP: Kevin Schlitter