November 12, 2011
2011-12 Season - Richardson 184-pound champ at Knox Invite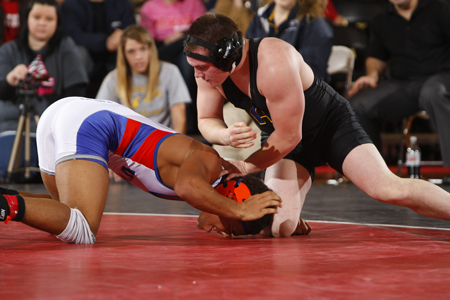 Augustana 133-pounder Steve Poffenberger took second place Saturday at the Knox Invitational in Galesburg, Illinois. Poffenberger recorded three straight pins before dropping a 4-3 decision in the finals.
GALESBURG, Ill. - Augustana sophomore Jordan Richardson (Grandville HS, Wyoming, Mich.) opened the 2011 season by capturing the championship in the 184-pound weight class Saturday at the Knox Invitational in Galesburg, Illinois. Richardson was one of seven Viking place winners at the 12-team event. No team scores were compiled.
After receiving a first-round bye, the third-seeded Richardson won his first match by technical fall over Central's David Demmer. He defeated Alex Faulkner of Knox in the semifinals by a score of 12-7 and then bested Carroll's Dwayne Hale 6-3 in the finals.
Sophomore Abe Duran (East Aurora HS, Aurora, Ill.), at 285 pounds, and junior Steve Poffenberger (Allegan HS, Paw Paw, Michigan), at 133, each went 3-1 and achieved second-place finishes. After a first-round bye, Duran pinned Northland's Charles Haines, defeated top-seeded Steve Nguyen of Milwaukee School of Engineering 5-3 in the quarters and teammate John Schraidt (Riverside-Brookfield HS, Riverside, Ill.) 4-3 in the semis before losing by fall to Oklahoma City's Michael Brown in the finals. The second-seeded Poffenberger recorded consecutive pins against Knox's Jason Lafavor and MSOE's Nick Micelli and David Wolfenden to reach the finals, where he dropped a 4-3 decision to Javontae Coleman of Rend Lake.
Schraidt, a freshman, went 4-1 in the 285-pound weight class to take third place. He recorded pins against Wheaton's Kyle Patton and Knox's James Wagner before his narrow loss to Duran in the semis. He bounced back with wins over Oklahoma City's Derek Locust (12-7) and MSOE's second-seeded Austin Karls (11-5). At 197 pounds, Viking junior Hunter Feraco (Gull Lake HS, Battle Creek, Mich.) also garnered a third-place finish. He won his first two matches, 9-4 over Cody Bergquist of Hannibal-LaGrange and 11-5 over Oklahoma City's Teanu Rickard. He dropped a 6-2 decision to top-seeded Darren Faber of Wheaton, but rebounded with consecutive 3-2 wins over Theron Stewart and Dan Gordon of Central.
Other place winners for the Vikings Saturday were junior Matt Burns (Naperville Central HS, Naperville, Ill.), who took fourth at 174 and freshman David Tessiatore (Downers Grove North HS, Downers Grove, Ill.), who was sixth at 157.
Coach Eric Juergens' Vikings, ranked 21st in the nation, are next in action on Thursday, November 17, when they host Knox at Carver Center beginning at 7:00 p.m.