November 12, 2011
2011 Season - Vikings drop season finale 34-12 at IWU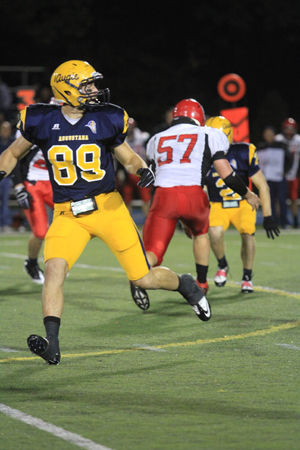 Senior tight end Keith Abbey had three catches for 53 yards, including a 42-yard touchdown grab, but the Vikings fell at Illinois Wesleyan, 34-12.
BLOOMINGTON, Ill.-Augustana closed out the 2011 football season Saturday, dropping a 34-12 decision to Illinois Wesleyan at Tucci Field. The Vikings finish the year 2-8 overall and 2-5 in the CCIW. The Titans improve to 9-1 overall and 6-1 in the CCIW.
Augustana missed a scoring opportunity early. The Vikings took the opening kickoff and went 59 yards in 10 plays before the drive stalled at the IWU 15-yard line. Brady Rogers (Cherokee Trail HS, Aurora, Colo.) came on, but his 32-yard field goal attempt was wide left and left the game scoreless.
The Titans responded by going 80 yards in 11 plays, capped by a one-yard touchdown run by quarterback Rob Gallik to put the hosts ahead 6-0. Tony Angelos' point after attempt failed. Illinois Wesleyan intercepted quarterback David Lee (Springfield HS, Springfield, Ill.) on the Vikings' next possession and went 38 yard in eight plays to extend the lead to 13-0. Gallik went in from three yards out for the score. The key play on the drive was a 15-yard personal foul call against Augustana.
Wesleyan pushed the lead to 20-0 early in the second quarter. After forcing a Viking three-and-out, Gallik took the Titans 75 yards in six plays, this time aided by defensive holding and personal foul calls against the defense. Gallik connected with Joey Driver from 11 yards out and Angelos' kick made it 20-0.
IWU made it 27-0 with 3:23 left in the half when Cameron Blossom scored on a three-yard run, capping an 18-play, 79-yard drive.
Freshman safety Tim Maroder (Burlington Central HS, Elgin, Ill.) picked off a Gallik pass on the first possession of the second half to set up Augustana's first score. Lee completed seven of eight passes on a 13-play 99-yard march, with the final one going to tight end Keith Abbey (Rich East HS, Park Forest, Ill.) for 42 yards and a touchdown.
Illinois Wesleyan extended the lead to 34-6 early in the fourth quarter when Gallik found Parker Carroll for an 18-yard touchdown pass. Lee finished the scoring with a four-yard touchdown run with 4:14 remaining.
In his final game, Lee finished 21 of 32 for 228 passing yards, one touchdown and one interception. In addition, he had 19 yards and a touchdown rushing. Abbey, also a senior, caught three passes for 53 yards and a touchdown and classmate Zachary McCullough (St. Charles North HS, St. Charles, Ill.) caught three for 45 yards. Junior running back Brett McWilliams (Hononegah HS, Roscoe, Ill.) was the Vikings' leading rusher with 42 yards on 11 carries and caught three passes for 36 yards as well.
Sophomore linebacker Erik Westerberg (York HS, Elmhurst, Ill.) led the defense with 13 total tackles--three solo and 10 assists. CCIW punting leader Arnie Fitzwater (Union HS, Waterford, Wis.) kicked four times for a 42.5-yard average.