November 12, 2011
2011 Season - Augustana 13th at Midwest Regional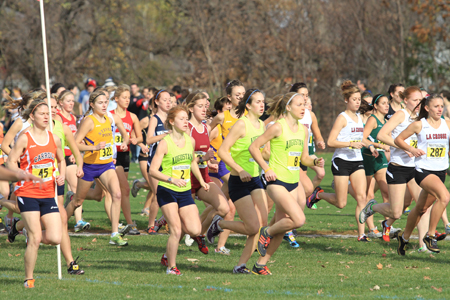 Sarahbeth Jones (8) finished 27th individually Saturday to lead Augustana to a 13th-place team finish at the NCAA Midwest Regional at Saukie Golf Course. Running with Jones are Becca Sund and Kristyn Barton (2).
ROCK ISLAND, Ill. - Led by a 27th-place individual finish from junior Sarahbeth Jones (Warren Township HS, Wadsworth, Ill.), the Augustana women's cross country team finished 13th Saturday at the NCAA Midwest Regional held at Saukie Golf Course. Jones finished the 6,000-meter course in a time of 22:51.2.
Washington University was Saturday's team champion with Erica Jackey (21:53.8), Elizabeth Phillips (21:53.8) and Lucy Cheadle (21:55.4) finishing second, third and fourth, respectively, among individuals. The Bears also had Sarah Fisher; with a sixth-place 22:00.4 and Molly Wawrzyniak, with a ninth-place 22:08.8, finish in the top ten. Christy Cazzola of Wisconsin-Oshkosh was the individual winner with a time of 21:31.1.
Freshmen Becca Sund (Palatine HS, Palatine, Ill.) and Jessica Bacon (Rock Island HS, Rock Island, Ill.) were Augustana's top finishers behind Jones. Sund ran a 23:30.3 to take 52nd place, while Bacon was 82nd in a time of 24:08.8.
Sophomore Kristyn Barton (York HS, Elmhurst, Ill.) finished 104th in a time of 24:30.4. Junior Annie Heifner's (Oregon HS, Oregon, Wis.) 24:41.0 was good for 115th. Rounding out the Augustana contingent were junior Theresa Coverick (Stagg HS, Palos Park, Ill.) and freshman Stephanie Burbridge (Palatine HS, Palatine, Ill.). Coverick ran a 152nd-place 25:22.0 and Burbridge was 158th with a 25:29.9.
Wisconsin-Eau Claire, with 115 points, was second behind Washington (24). The University of Chicago (146) finished third, with North Central (150) and Wisconsin-Stevens Point (188) rounding out the top five.