Strategic plan impacts the college and the community
November  11, 2011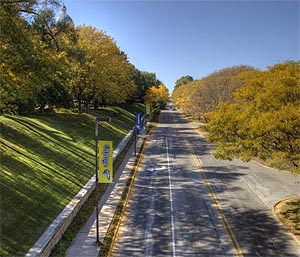 Seventh Avenue runs through Augie's campus.
This week Augustana College distributed a booklet highlighting its new strategic plan to faculty and other campus employees. What began in 2010 as a way of addressing the challenges faced by the college culminated in a mission-centered, three- to five-year plan of action. Some of the plan's first priorities are specific efforts to positively impact the Quad-Cities community, including renovations, new construction and plans to strengthen the surrounding neighborhood.
"For the college and the community's future, it is essential that Augustana continues to take opportunities to modernize and improve," said Paul Pearson, the newly appointed vice president for construction and community development at Augustana. Pearson, an Augie alumnus and employee of 32 years, will lead the strategic plan's efforts tied to improving the campus and enhancing its neighborhood.
One part of Pearson's charge is to see the college through the final phase of renovations to Old Main, Augustana's signature building along Seventh Avenue. Having just completed exterior renovations, Old Main's interior work is scheduled to begin in the summer of 2012. This includes modernizing classrooms with advanced technology, adding computer kiosks, updating faculty offices and seminar rooms, and creating a forum space that showcases Old Main's two-story, historical stained glass chapel window.
Plans are taking shape to construct a Center for Student Life, connecting the existing Thomas Tredway Library to new facilities for dining, advising and student activities. Pending approval from the college's Board of Trustees, Augustana aims to build the integrated Center for Student Life by 2015. This bold step can positively position Augustana among liberal arts colleges for rethinking the traditional library and providing an innovative learning environment.
"This is quite an important time for Augustana. With these two major projects in the developmental stage, significant efforts are underway to support the continued improvement of our buildings, campus and surroundings," said President of the College Steven C. Bahls.
"We anticipate the pace of construction at Augustana will increase to levels the college hasn't experienced in years," Bahls added.
Also under Pearson's leadership, new community taskforces will be established to address strengthening the neighborhood that surrounds the college. "A core value for Augustana is being a good neighbor. Strengthening our relationships with neighbors, benefits both the college and the community," said Pearson, who will spearhead an internal taskforce and an external advisory committee.
The taskforces are intended to help the college and the community to determine the barriers to strengthening the commercial viability of the neighborhood, as well as the housing stock in those areas close to campus.
Commenting on Augustana's plans, Brian Hollenback, president of Renaissance Rock Island, said, "Rock Island is known for its strong neighborhoods and sense of community pride. By investing in your neighborhood, whether time or monetary commitments, you are making a strategic and lasting impact for the neighborhood itself and throughout our local community."
When asked about the challenges the taskforce might face, Hollenback said, "Every new group has its challenges, but by working together to achieve a common goal, then results are realized and visible impacts are seen."
To view the strategic plan, titled "Affirm, Assure and Access" go to Augustana.edu/strategicplan.
Sam Schlouch
Senior Communication Director
(309) 794-7833
samschlouch@augustana.edu