Women's and Gender Studies Tea Hour Series continues
November  09, 2011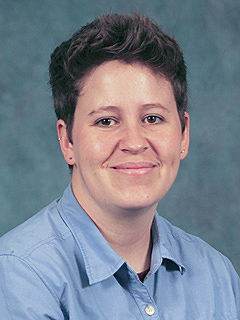 Erin Bertram
English instructor and poet Erin Bertram will be the next featured speaker for the Women's and Gender Studies Tea Hour Series. Bertram will discuss the 19th-century French sculptor Camille Claudel and the benefits of literary collage in her lecture on Wednesday, Nov. 30, at 4 p.m. in the Great Hall of Carlsson Evald Hall (3601 7th Ave.). The lecture is free and open to the public.
Bertram's lecture is titled "Stand Next to Me Closely: Literary Collage and The Vanishing of Camille Claudel." In the lecture she will examine the "iconic and enigmatic figure who spent the last three decades of her life in an asylum, committed against her will." According to Bertram, "Camille Claudel sculptures, though remarkable, didn't receive the acclaim they seemed to deserve—unlike those of her teacher, collaborator and lover, Auguste Rodin. It's likely because she was a woman in turn-of-the-century France, not a man."
In addition to discussing Claudel's life, Bertram will explain literary collage. "It allows writers and their readers to question and appreciate the subjects being addressed in a unique, multifaceted, complex and immediate way," she said.
Bertram has written eight poetry chapbooks, including Inland Sea, which won the 2009 Robin Becker Chapbook Prize, and Body of Water which won the 2007 Frank O'Hara Award. Her poems have appeared in Bloom, Hotel Amerika, Copper Nickel and The Laurel Review, and she has received a scholarship from Split Rock Arts Program along with fellowships from Washington University, St. Louis.
Bertram earned her bachelor's degree at Augustana College and a master of fine arts at Washington University. She currently is a fellowship instructor in English at Augustana College. In addition to teaching, she is a book reviewer for Pleiades and Rain Taxi Review of Books and a prison-writing mentor through PEN American Center.
As the academic year continues, the Women's and Gender Studies department will host additional Tea Hour Series speakers: Kelly Murphy on "Conquering Canaan and Making Men?: Masculinity in the Book of Judges" on Wednesday, Jan. 18; Dr. Laura Hartman on "Modesty: Rethinking an Ancient Virtue" on Wednesday, March 14; and Farah Marklevits on "Electrical the Embryo: An Alternative Guide to Pregnancy" on Wednesday, April 18. These lectures will take place at 4 p.m. in Carlsson Evald Hall.
Sam Schlouch
Senior Communication Director
(309) 794-7833
samschlouch@augustana.edu