November 8, 2011
2011 Season - Tom Schmulbach steps down after 30 years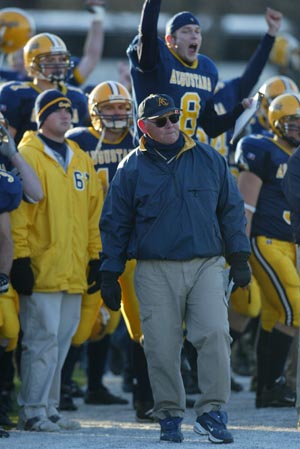 After 30 years on the staff at Augustana, Tom Schmulbach will step down following the Vikings game at Illinois Wesleyan on Saturday, November 12. Schmulbach, who served as head coach of the Vikings from 1995-99, came to Augustana prior to the 1982 season.
When the final gun sounds on Saturday, November 12 in Bloomington, Illinois signifying the end of the football game between Augustana and Illinois Wesleyan, Tom Schmulbach will do what he has done for over 40 years. He will walk across the field, shake hands with the opposing coach and then he will stay on the field in the gathering darkness and visit with family, friends and former players. What will make this Saturday, unusual, however, is the fact that Schmulbach will be doing it for the final time.
A longtime fixture at Augustana, and the last link on the Vikings' staff to four straight NCAA Division III national titles from 1983-86, Schmulbach will retire effective at the end of the current season.
"It has been a quick, joyful trip," reflected Schmulbach, who joined the Augustana staff as the offensive backfield coach in 1982. "I thought that the Augustana job would be a good one for me and my family and it has turned out to be that and a lot more."
He was 35 years old in the summer of 1982 when he accepted the job offer to join the Augustana staff and re-connect with legendary head coach Bob Reade. Schmulbach had been an assistant at Geneseo High School for Reade from 1971 until after the 1978 season. At that time he left the highly successful Maple Leaf program (Illinois Class 3A state champions in 1976-77-78) to become the head coach at Rockridge High School in Taylor Ridge, Illinois.
After a three year stint at Rockridge, Schmulbach hooked back up with Reade at a time when the Vikings were entering a dominant phase in both the College Conference of Illinois & Wisconsin and NCAA Division III. In his first season, 1982, Augustana went 11-1 and advanced to the Amos Alonzo Stagg Bowl in Phenix City, Alabama. There the Vikings fell to West Georgia by a score of 14-0.
Augustana would not lose again until the second round of the 1987 NCAA Division III playoffs when Dayton defeated the Blue & Gold in a memorable 38-36 decision at Welcome Stadium in Dayton, Ohio. He was the backfield coach on each of the four national championship teams in 1983, 1984, 1985 and 1986.
"My years with Bob certainly shaped who I was as a coach," said Schmulbach. "He taught me that you need to have a system that is sound, believe in it and know how to teach it well enough so that your players will believe in it. That is what Bob was so good at and it was one of the most valuable lessons I learned from him."
Schmulbach took over the offensive coordinator duties prior to the 1990 season and that lasted until Reade retired following the 1994 campaign. He took over as the head coach during the summer of 1995 and began a five year run as the head coach of the Vikings.
He compiled a record of 34-13 for a winning percentage of .723 in five years and he led Augustana to CCIW titles in 1997 and 1999. His 1999 team advanced to the second round of the NCAA Division III national playoffs before losing to Mount Union by a score of 42-33 in a memorable game in Alliance, Ohio.
That 1999 season was a trying one for Schmulbach as he was diagnosed with cancer just prior to the start of the season. He was limited as to what he could do physically during that season and relied heavily on longtime friend and coaching colleague Larry Johnsen. Johnsen, who had coached with Schmulbach during the Geneseo days, served as the acting head coach in 1999 when the Vikings went 9-2.
It was at this point when Schmulbach was forced to make a decision about his future.
"When you are the head football coach, you own that position 24 hours a day, 365 days a year," said Schmulbach. "It was certainly a rewarding experience but at that time in my life I wasn't sure I could give the effort needed. Augustana was extremely loyal to me during that time but I came to the realization that I just couldn't promise how much I had left."
He stayed on as an instructor in the physical education department and assumed responsibility of the school's Student Athlete Advisory Committee (S.A.A.C.). After recovering during the 2000 season, Schmulbach thought about going back into coaching but he wasn't sure if he could physically hold up to the stress. In 2001 he volunteered as an assistant coach at United Township High School in East Moline under the direction of Mike Tracey. That season helped solidify Schmulbach's resolve to get back into coaching.
"Working for Mike Tracey that year at United Township helped me realize I could still do it," said Schmulbach. "When Jim Barnes offered me a spot back on the Augustana staff, I was more than happy to take it."
Schmulbach worked for 30 years at Augustana and he relishes the time spent. As he looks back he recalls his fondest memory.
"Being able to watch my sons play at Augustana is clearly the highlight," said Schmulbach of coaching his sons Jeff and Joe during the 1990's. "That was a joyful time in our family's life."
During his time with the Augustana football program, the Vikings compiled a record of 221-58-1 for a winning percentage of .791. Schmulbach helped coach 15 CCIW championship teams and 12 NCAA Division III playoff teams.
"Tom has been a dedicated, loyal servant-leader for Augustana athletics and the football program for 30-plus years, and has positively impacted the lives of countless student-athletes, coaches and administrative colleagues during his tenure," said Augustana director of athletics Mike Zapolski. "I have appreciated Tom's passion, wisdom and work ethic--all of which have been a foundation for his many contributions to the success of our program."
In retirement Schmulbach plans on spending time with his grandson Quinn and granddaughter Reagan as well as his wife Jan, who recently retired as a teacher in the Rockridge school district.