November 7, 2011
2011 Season - Four Vikings earn All-CCIW recognition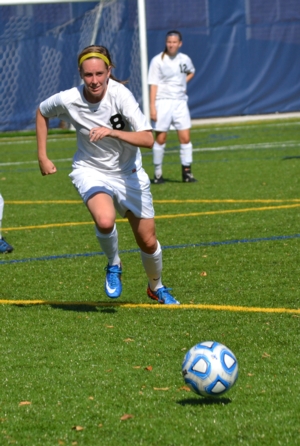 Augustana junior midfielder Taylor Moesle has been named first team All-CCIW for the second year in a row.
NAVERVILLE, Ill.- Augustana placed four players on the 2011 College Conference of Illinois & Wisconsin women's all-conference soccer team announced today. Senior goalkeeper Kayla Radloff (West Chicago HS, West Chicago, Ill.) and junior midfielder Taylor Moesle (Sandburg HS, Orland Park, Ill.) were selected to the first team, while senior forwards Ashley Higuchi (Smoky Hill HS, Aurora, Colo.) and Erin Coulson (Naperville, Ill. Neuqua Valley HS, Hermosa Beach, Calif.) were second team picks.
Radloff earned first team honors for the third straight year and Moesle for the second season in a row. Higuchi repeated as a second team selection and Coulson was a second team pick for the second time as well, matching her 2009 performance.
Radloff was the Vikings' starting keeper for four straight years, logging 6,686 minutes in goal. She finished her career with a 54-16-7 record and a 0.74 goals against average. She recorded 269 saves for a save percentage of .830. This season, she finished 9-8-1 with a 1.09 goals against average and .843 save percentage.
Moesle led Augustana in scoring for the third straight year. She tied for the team lead with seven goals and added a team-high eight assists for 22 points. She'll enter her senior season seventh on the school's career goals list with 28 and tied for third in assists with 17. Higuchi, who had five goals and five assists this year, finished her career sixth on Augustana's all-time assist list (16) and ninth in goals (25). Coulson, who tied Moesle for the team scoring lead in 2009, scored five goals with a pair of assists this season. Her 30 career goals are fifth-best in school history.
2011 CCIW Women's Soccer All-Conference
| | | | | |
| --- | --- | --- | --- | --- |
| FIRST TEAM | School | Pos. | Yr. | Hometown/H.S. |
| KAYLA RADLOFF | AUGUSTANA | GK | Sr. | West Chicago, Ill./H.S. |
| Laura Karsten | Wheaton | D | Jr. | Grand Haven, Mich./Western Michigan Christian |
| Lauren Knaack | Illinois Wesleyan | D | Sr. | McHenry, Ill./West |
| Dominique Collins | North Central | D | Sr. | Wheaton, Ill./Glenbard South |
| Katelyn Kishkunas | Wheaton | MF | Sr. | Glenview, Ill./Glenbrook South |
| Keri Shannon | Wheaton | MF | Jr. | Melville, N.Y./St. Anthony's |
| TAYLOR MOESLE | AUGUSTANA | MF | Jr. | Orland Park, Ill./Carl Sandburg |
| Molly O'Brien | Illinois Wesleyan | F | Sr. | Valparaiso, Ind./H.S. |
| Amy Baschen | Elmhurst | F | Jr. | Downers Grove, Ill./South |
| Jaime Orewiler | Wheaton | F | Sr. | Wheaton, Ill./North |
| Emily Hinchman | Illinois Wesleyan | F | Jr. | Geneva, Ill./H.S. |
| Anna Seabolt | Wheaton | F | Fr. | Holland, Mich./Christian |
| | | | | |
| SECOND TEAM | School | Pos. | Yr. | Hometown/H.S. |
| Amy Frazzini | North Central | GK | Sr. | Orland Park, Ill./Sandburg |
| Stephanie Thomson | Elmhurst | D | Sr. | Palatine, Ill./H.S. |
| Kaitlyn Le Baudour | Wheaton | D | Sr. | Windsor, Calif./Ursuline |
| Erin Strom | Wheaton | D | Jr. | Wheaton, Ill./North |
| Katie Baschen | Elmhurst | MF | Jr. | Downers Grove, Ill./South |
| Val Lelle | Wheaton | MF | Jr. | Arlington Heights, Ill./Wheeling |
| Ali Kopelman | Wheaton | MF | Sr. | Rockford, Ill./Lutheran |
| Valerie Wesley | Elmhurst | F | Sr. | Chula Vista, Calif./Academy of Our Lady Peace |
| Rachel Jason | Carthage | F | Jr. | Deerfield, Ill./H.S. |
| ERIN COULSON | AUGUSTANA | F | Sr. | Naperville, Ill./Neuqua Valley |
| Anika Johnson | North Park | F | So. | Baroda, Mich./Lakeshore |
| ASHLEY HIGUCHI | AUGUSTANA | F | Sr. | Aurora, Colo./Smoky Hill |
CCIW Coach of the Year
Paul Webster - Elmhurst

CCIW Player of the Year
Jaime Orewiler - Wheaton