November 7, 2011
2011 Season - Augustana lands two on All-CCIW second team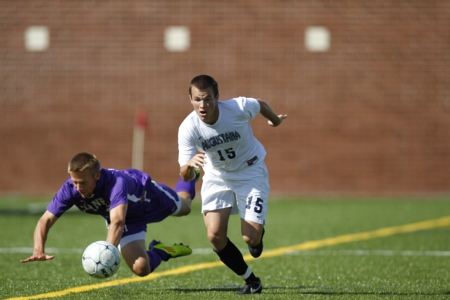 Senior forward Sean Fidlow earned second team All-CCIW honors for the second year in a row.
NAPERVILLE, Ill.- The College Conference of Illinois & Wisconsin announced its men's all-conference soccer team today and Augustana senior forward Sean Fidlow (Carmel HS, Gurnee, Ill.) has been named to the second team for the second consecutive year. Sophomore defender Michael Buric (Notre Dame Prep, Scottsdale, Ariz.) was also a second team selection.
Fidlow scored 13 goals this season, which led the 13-6-0 Vikings and tied for the highest mark in the CCIW through the end of regular season play. He also tied for the team lead with six assists, giving him 32 points, a total which leads the conference. He was named the conference's Offensive Player of the Week on October 11.
Buric helped lead a Viking defense that allowed just 19 goals in 19 games this year. He earned CCIW Defensive Player of the Week honors on September 20.
2011 CCIW Men's Soccer All-Conference
| | | | | |
| --- | --- | --- | --- | --- |
| FIRST TEAM | School | Pos. | Yr. | Hometown/H.S. |
| Milan Tijanic | Carthage | GK | Jr. | Glenview, Ill./Maine East |
| Dan Pavlak | Wheaton | D | Jr. | DeWitt, Mich./H.S. |
| Declan Geraghty | Illinois Wesleyan | D | So. | Schaumburg, Ill./H.S. |
| Zak Khoshbin | Carthage | D | Sr. | Hawthorn Woods, Ill./Lake Zurich |
| Kristoffer Grahn | North Park | MF | Sr. | Tibro, Sweden |
| Kyle Gorgol | Illinois Wesleyan | MF | Jr. | Darien, Ill./Hinsdale South |
| Billy Hamilton | Carthage | MF | So. | Arlington Heights, Ill./St. Viator |
| Cory Weaver | Wheaton | MF | Sr. | Sellersville, Pa./Faith Christian Academy |
| Jonas Pettersson | North Park | F | Fr. | Odelbergsvagen, Sweden |
| Drew Golz | Wheaton | F | Sr. | River Forest, Ill./Oak Park-River Forest |
| Jake Muszczynski | North Central | F | So. | Arlington Heights, Ill./Rolling Meadows |
| Matt Sterner | Elmhurst | F | Sr. | Naperville, Ill./Central |
| | | | | |
| SECOND TEAM | School | Pos. | Yr. | Hometown/H.S. |
| Tim Ahlberg | North Park | GK | Jr. | Perrysburg, Ohio/H.S. |
| MICHAEL BURIC | AUGUSTANA | D | So. | Scottsdale, Ariz./Notre Dame Prep |
| Paul Box | North Central | D | Sr. | Naperville, Ill./Neuqua Valley |
| Fredrik Greiff | North Park | D | Fr. | Halmstad, Sweden |
| Michael Curtis | North Central | MF | Sr. | Morton, Ill./H.S. |
| Brian McMahon | Elmhurst | MF | Sr. | St. Charles, Ill./St. Francis |
| Greg Pignataro | Carthage | MF | Sr. | Algonquin, Ill./Jacobs |
| Stuart Ball | Millikin | F | Fr. | Carmel, Ind./H.S. |
| Michael Dombrowski | Carthage | F | Fr. | Johnsburg, Ill./H.S. |
| Jordan Golz | Wheaton | F | So. | River Forest, Ill./Oak Park-River Forest |
| SEAN FIDLOW | AUGUSTANA | F | Sr. | Gurnee, Ill./Carmel Catholic |
| Robin Hals | North Park | F | So. | Linkoping, Sweden |
Joe Bean Coach of the Year
Steve Domin - Carthage

CCIW Player of the Year
Zak Khoshbin - Carthage