November 4, 2011
2011 Season - Jessica Bacon wins dual meet against Aurora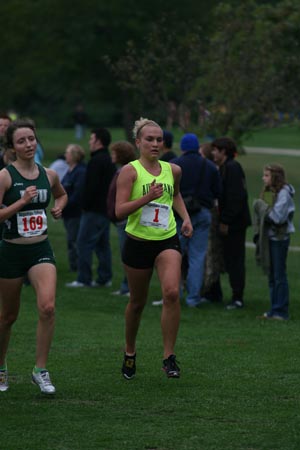 Freshman Jessica Bacon won her first college race when she placed first in a dual meet against Aurora on Friday, November 4. Bacon toured the 4000 meter course at Oakhurst Forest Preserve in Aurora, Illinois in 15:53.
AURORA, Ill. - Freshman Jessica Bacon (Rock Island HS, Rock Island, Ill.) picked up the first victory of her collegiate career and in the process led her Augustana team to a victory over Aurora on Friday, November 4. The dual meet was held at Oakhurst Forest Preserve in Aurora, Illinois and the Vikings defeated the Spartans by a score of 21-39.
Bacon, who has been in the top seven for Fred Whiteside's team throughout the 2011 season, won with a time of 15:53 over the 4,000 meter layout. She bested freshman teammate Kristina Bowen (Kaneland HS, Elburn, Ill.) by 18 seconds. Bowen's time of 16:11 was good for second place in the race.
Aurora took the next two spots with Anna Perkowski placing third in 16:13 and Brie Deckard grabbing fourth in 16:14.
The next four places belonged to Augustana as junior Tara Bistry (Joliet Catholic HS, Shorewood, Ill.) finished fifth in 16:31, followed by freshman Elizabeth Lundine (Willowbrook HS, Villa Park, Ill.) in sixth with a time of 16:33. Senior Melissa Lehpamer (Plainfield South HS, Plainfield, Ill.) took seventh in 16:33 to seal the victory for the Vikings.
Junior Amanda Rodriguez (Mahomet-Seymour HS, Mahomet, Ill.) was eighth in 16:37 and freshman Lorraine Stamberger (LaMoille HS, LaMoille, Ill.) placed 10th in 16:51.
Augustana will host the NCAA Division III Midwest Regional on Saturday, November 12 at Saukie Golf Course in Rock Island, Illinois.