November 5, 2011
2011 Season - Vikings drop heartbreaker to Elmhurst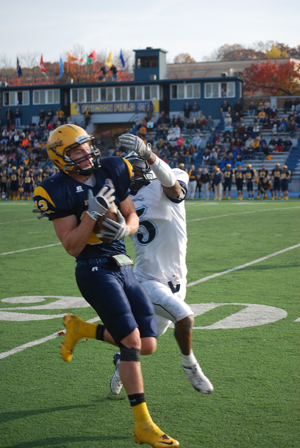 Senior Zachary McCullough caught eight passes for 112 yards in his final game at Ericson Field Saturday, but the Vikings came up one point short, falling 28-27 to Elmhurst.
ROCK ISLAND, Ill.-Senior quarterback David Lee (Springfield HS, Springfield, Ill.) led Augustana on a 95-yard touchdown march in the final four minutes Saturday to draw the Vikings to within one point of visiting Elmhurst, but the ensuing two-point conversion attempt failed, allowing the Bluejays to escape with a 28-27 win at Ericson Field. The loss drops Augustana to 2-7 on the year and 2-4 in CCIW play, while Elmhurst improves to 5-4 overall and 3-3- in the league.
Trailing 28-21 with 3:45 remaining, the Vikings took over at their own five yard-line following an Elmhurst punt. Lee completed five of his first six passes on the drive and added a run of six yards to move the team into Bluejay territory. On third and 10 from the Elmhurst 44, he connected with fellow senior Zachary McCullough (St. Charles North HS, St. Charles, Ill.) for 34 yards down the right sideline to give the Viking first-and-goal at the Elmhurst 10. The Bluejays were called for pass interference penalty in the end zone and on the next play Lee fired a two-yard touchdown pass to senior A.J. Hoger (Cary-Grove HS, Cary, Ill.) to cut the deficit to 28-27 with 41 seconds on the clock.
Freshman Brady Rogers (Cherokee Trail HS, Aurora, Colo.) came on as the Vikings lined up in kick formation on the extra point, but holder Danny Hess (Naperville North HS, Naperville, Ill.) took the snap and rolled around right end looking for a receiver in the end zone. Elmhurst defended the play well and Hess' pass fell incomplete.
After forcing a Bluejay three-and-out on the game's opening possession, Augustana went 57 yards in five plays to take a 7-0 lead. Lee connected with freshman Antonio Owens (Naperville North HS, Naperville, Ill.) for 38 yards on the team's first play from scrimmage and Hoger went 15 yards around left end on the next play to reach the Elmhurst four-yard line. Two plays later, Lee went the final three yards on a quarterback draw. Rogers' PAT gave the Vikings a 7-0 lead.
A school record-tying 76-yard punt by junior Arnie Fitzwater (Union HS, Waterford, Wis.) forced Elmhurst to start at its own 20, but the Bluejays went 80 yards in 12 plays for the tying score. CCIW rushing leader Scottie Williams scored from nine yards out with 1:19 left in the first period to even the score at 7-7.
On the first play after Rogers missed a 26-yard field goal wide right, Bluejay quarterback Joe Furco went up top and found Joe St. Peter all alone behind the Augustana secondary for an 80-yard touchdown pass and a 14-7 Elmhurst lead with 7:14 to go in the second quarter.
It looked like the Bluejays would extend the lead with the ball on the Augustana one-yard line and six seconds left in the half, but the Viking defensive line stuffed Williams and knocked the ball loose. Senior defensive end Pete Schimeck (Benet Academy, Naperville, Ill.) scooped up the ball with a potential game-tying touchdown in front of him, but Furco made a saving tackle and the score remained 14-7 as the teams went to halftime.
The Vikings took the second half kickoff and went 61 yards in 10 plays to tie the game. Sophomore Nick Krantz (Moline HS, Moline, Ill.) went in from the one-yard line on a jet sweep to cap the march.
The hosts then went ahead 21-14 on their next possession. After forcing a Bluejay three-and-out, Augustana went 50 yards in eight plays for the go-ahead touchdown. Lee connected with McCullough for a key 20-yard completion on third-and-seven and sophomore running back Eric Chandler (Cary-Grove HS, Cary, Ill.) carried for 15 yards on the last three plays of the drive, going in from four yards out for the score with 5:28 left in the third quarter.
Three and a half minutes later, Bluejay back Andrew Tubek answered with a one-yard touchdown run to finish off a 51-yard, 10-play march and tie the game at 21.
Elmhurst took a 28-21 lead with 10:19 left in the game. Again it was Tubek doing the honors from a yard out.
Lee completed 21 of 34 passes in his final game at Ericson Field for 218 yards and a touchdown. McCullough hauled in eight of Lee's throws for 112 yards. Chandler was the Vikings' leading ground gainer with 65 yards and a touchdown on 14 carries. Linebackers Joe Weber (Marmion Academy, South Elgin, Ill.) and Erik Westerberg (York HS, Elmhurst, Ill.) led the team in tackles with 11 each. Both players recorded seven solo stops and four assists.
Augustana wraps up the 2011 season with a road date at Illinois Wesleyan on Saturday, November 12. Game time in Bloomington, Illinois is set for 1:00 p.m.