Poet Jill Alexander Essbaum to visit Augie
November  04, 2011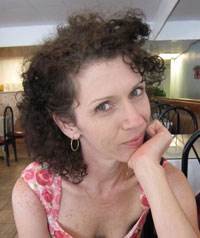 Jill Alexander Essbaum
Famous for her wordplay and puns, poet Jill Alexander Essbaum will read her work on Wednesday, Nov. 30, at 7 p.m. in Wallenberg Hall inside the Denkmann Memorial Building (3520 7th Ave). Part of Augustana College's River Readings, Essbaum's reading is free and open to the public.
"She's a well-respected poet, whose writing delves into matters that are both spiritual and sensual," said Dr. Kelly Daniels, assistant professor of English at Augustana.
Known as a Christian erotic poet, Essbaum is the author of four full-length collections of poetry including Heaven, which won the 1999 Bakeless Prize in poetry, Harlot, Necropolis and The Devastation. Her poems "On Reading Poorly Transcribed Erotica" are included in the anthology The Best American Erotic Poems: 1800-Present. Essbaum's "Apologia" was reprinted in The Best American Poetry 2010, and "Stays" will appear in Best American Poetry 2011.
In describing herself, Essbaum said she is "nettled and hectored by a good dozen obsessions—more, probably. There are but three that ultimately matter to me (maybe to anyone): God, sex, death. Anything worthwhile I've ever thought or said will be about those things."
Essbaum earned a bachelor's from the University of Houston and a master's from the University of Texas. She currently teaches at the University of California Riverside Palm Desert Graduate Center in the Masters of Creative Writing Graduate Program. Essbaum also is an editor for the online poetry journal ANTI and the print journal The National Poetry Review.
Essbaum is the second writer to visit Augustana's campus for the 2011-2012 River Readings three-part series. The next will be novelist Jaimy Gordon, winner of the National Book Award for fiction last year, on April 19, 2012.
Sam Schlouch
Senior Communication Director
(309) 794-7833
samschlouch@augustana.edu