November 3, 2011
2011-12 Season - Vikings fall at Valpo 74-65 in exhibition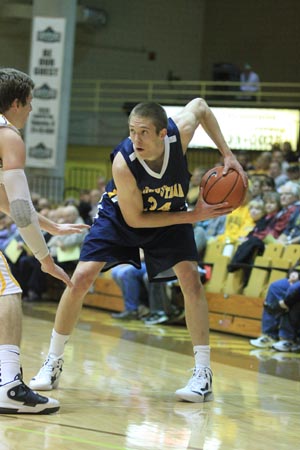 Senior Bryant Voiles scored a game high 25 points, hauled in six rebounds and had six steals in a 74-65 loss at Valparaiso in an exhibition game on Thursday, November 3.
VALPARAISO, Indiana - Despite a 25 point effort from senior forward Bryant Voiles (Byron HS, Byron, Ill.), Augustana dropped a 74-65 decision at Valparaiso on Thursday, November 3 at the Athletic & Recreation Center. The exhibition game against the NCAA Division I Crusaders was the first action of the 2011-12 season for veteran head coach Grey Giovanine and his Vikings.
Voiles was all over the place as he shot eight of 14 from the floor and seven of eight from the free throw line. He hauled in six rebounds, had six steals, one turnover and one blocked shot. He was joined in double figures by junior center Brandon Kunz (Lake Zurich HS, Lake Zurich, Ill.) with 10 points.
Augustana, ranked second in NCAA Division III, got off to a sluggish start, trailing 8-1 before the game was four minutes old and by as many as 15 points (22-7) midway through the first half. At the intermission the Vikings were down 38-27 and Voiles had 14 of his team's points.
In the second half the Valparaiso lead reached as high as 24 points (74-50) with 5:39 left to play. Over the final five-plus minutes of the game Augustana held the home team without a point. The Vikings closed on a 15-0 run to make the final score 74-65.
The backboards belonged to Augustana on the night as the visitors held a 37-30 advantage, thanks in part to a game high 10 from senior guard Troy Rorer (Bettendorf HS, Bettendorf, Iowa). The Vikings had 16 offensive rebounds, which helped offset a .389 (21-54) shooting percentage. Junior center Luke Scarlata (Morton HS, Berwyn, Ill.) and Kunz each pulled down four rebounds.
Defensively, Augustana more than held its own against the Crusaders. Valparaiso shot .423 (22-52) from the floor but used a 19-23 (.826) performance from the free throw line as well as 11 three point field goals to help forge the victory.
This is the lone NCAA Division I exhibition game for the Vikings. The season opener is Tuesday, November 15 at home against Aurora.