November 3, 2011
2011-12 Season - Maier, McGinnis selected captains for men's lacrosse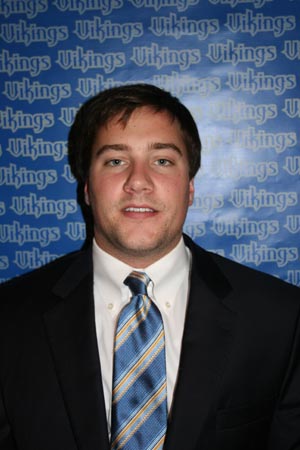 Junior Zachary McGinnis (above) and senior Marcus Maier (on front) have been selected as the first co-captains for Augustana's men's varsity lacrosse team. The Vikings' initial season in men's lacrosse will begin in February of 2012.
Senior Marcus Maier (Loyola Academy, Wilmette, Ill.) and junior Zachary McGinnis (New Trier HS, Kenilworth, Ill.) have been awarded the honor of serving as team captains for the initial season of men's lacrosse at Augustana. Kyle Hart, the Vikings' head coach, made the announcement recently after Augustana completed its fall practice season.
"Our young program is very fortunate to have the leadership of both Zach and Marcus" said Hart. "Both were contributors at two of the primer lacrosse high schools in the Midwest and were a part of a winning tradition with our football program before joining our group full time."
Maier, a 6-0, 215 pound defender, is the lone senior on the team. He was a standout in both lacrosse and football at Loyola Academy and was a member of the Augustana football team early in his career before switching to lacrosse when the sport achieved varsity status.
McGinnis, a 5-10, 200 pound defender, is a junior who was a two sport performer in lacrosse and football at New Trier. Like Maier, he was a member of the Augustana football team before joining the lacrosse program full-time.
"We are looking forward to beginning our first season of varsity play and feel confident about the success we can enjoy with the leadership provided by these two great student-athletes," said Hart.
The pairing of Maier and McGinnis as captains brings together two players who competed as bitter rivals for two of the most successful high schools in the state of Illinois in the sport of lacrosse.
Since 1990 the Illinois High School Lacrosse Association (IHSLA) state championship game has featured either Loyola or New Trier, with the exception of 2000. More recently, Loyola and New Trier have played in the state's championship game each season since 2006. New Trier holds a slight edge in the championship series at 6-5 with the Trevians winning the last six meetings between the two.
Augustana will play the first-ever varsity men's lacrosse match on February 22 against Millsaps College in Jackson, Mississippi. The first home match is scheduled for March 9 against Fontbonne at Thorson-Lucken Field with a 7:00 p.m. starting time.