Rembrandt expert to speak Nov. 30
November  02, 2011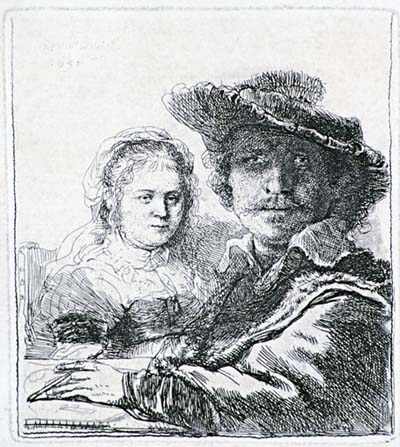 Rembrandt, Self-portrait with Saskia, 1636
What makes "Rembrandt" a household name? Learn about the famous Dutch artist from one of the world's leading experts, Tom Rassieur. He will present a free lecture, "Rembrandt as a Printmaker," at 7:30 p.m. Nov. 30 in Larson Hall within the Bergendoff Hall of Fine Arts (3701 7th Ave.). A reception will follow.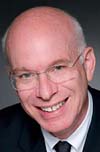 Thomas E. Rassieur
Rassieur's writings on Rembrandt's creative process as an etcher formed the basis of an exhibit at the Rembrandt House Museum (Amsterdam) to celebrate the artist's 400th birthday. Rassieur also was part of the curatorial team that organized Rembrandt in America, a major exhibition of paintings, which will tour to Raleigh, Cleveland and Minneapolis.
Today Rassieur leads The Minneapolis Institute of Arts (MIA) Department of Prints and Drawings, a collection of some 40,000 prints and drawings. He was appointed the John E. Andrus III Curator of Prints and Drawings at the MIA in late 2008. Rassieur came to the MIA from the Museum of Fine Arts, Boston (MFA), where he began as an assistant curator of prints and drawings in 1999, and ultimately served as the Pamela and Peter Voss Curator. In Boston, Rassieur curated or co-curated 10 exhibitions, including Rembrandt's Journey: Painter, Draftsman, Etcher, which premiered at the MFA in 2003 and subsequently traveled to the Art Institute of Chicago.
Rassieur holds a master's degree from the Institute of Fine Arts, New York University, and a bachelor's degree from Princeton University. This program is part of the Vaky Art History Lecture Series, supported by James Russell Vaky.
The lecture coincides with the Augustana College Art Museum exhibition "Liberal Arts through the AGES 2011-2012," on exhibition through Feb. 11, 2012, guest-curated by Dr. Catherine Carter Goebel, Paul A. Anderson Chair in the Arts and professor of art history at Augustana College.
For more information, call the art museum weekdays at (309) 794-7231.
Sam Schlouch
Senior Communication Director
(309) 794-7833
samschlouch@augustana.edu