November 2, 2011
2011-12 Season - Juergens ready to continue building on success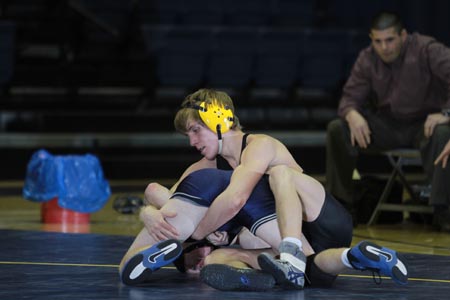 Sophomore Jacob Scholten won the CCIW and NCAA West Regional championships at 125 pounds last year. He posted a record of 38-8 on the year.
Eric Juergens knows that his Augustana wrestling team has made progress in each of the first four years of his tenure as the head coach. Although it is hard to predict the future, he feels that the 2011-12 edition of the Vikings will be the best since he took over prior to the 2007-08 season.
"I can tell by the intensity in the room during our practice sessions that this group is ready to take it up a notch," said Juergens, who was a two-time NCAA Division I national champion at the University of Iowa in 2000 & 2001. "We have continued to get better each year and are excited to get started this season."
Last year Augustana went 9-6 in dual meets, placed third in the College Conference of Illinois & Wisconsin tournament and seventh in the NCAA West Regional. It was the first winning record for the Vikings since 2003-04 when they went 15-5 and won the CCIW team title. The 63.5 points scored in the conference tournament were the most during Juergens' tenure and Augustana crowned a pair of individual CCIW champions. The Vikings had not had a league champion since 2006.
Last year eight wrestlers posted winning records and four of those return for the 2011-12 campaign. An outstanding recruiting class has Juergens optimistic about the future.
"You never know what will happen with injuries but if things fall into place, we could be pretty good," said Juergens who has compiled an overall dual meet record of 20-36 since taking over as the Terry & Sandy Shockley Head Wrestling Coach. "We do have some depth issues but our front line guys are all very solid."
WEIGHT CLASS BREAKDOWN
125 – Sophomore Jacob Scholten (Rockford HS, Grandville, Mich.) was outstanding as a freshman, winning the CCIW title at this weight class and leading the team with a 38-8 overall record. He won the NCAA Division III West Regional and his 38 victories is tied for the 20th best single season mark in Augustana's history. Freshman Thomas Browne (Grayslake HS, Hainesville, Ill.) will either back Scholten up or move up to 133.
133 – Junior Steve Poffenberger (Allegan HS, Paw Paw, Mich.) should be back down at 133 after going 15-17 and finishing third in the CCIW last year at 149 pounds. He was 22-18 and finished second in the CCIW at 133 as a freshman. Freshmen Julian Ochoa (Neuqua Valley HS, Bolingbrook, Ill.) and Derek Law (Air Academy, Colorado Springs, Colo.) will also be vying for this spot. Browne is a possibility as well if he bumps up from 125.
141 – Junior Greg Gogonas (Bowie HS, Austin, Texas) was nationally ranked for a time last season and he finished the year with a 17-15 record at 133 pounds. He placed third in the CCIW at that weight but will probably move up a weight class this year to 141. Law could factor in here as could fellow freshmen Hector Ruiz (East Aurora HS, Aurora, Ill.) and Zackary Wheeler (Seneca HS, Marseilles, Ill.).
149 – Senior Alberto Quiros (Morton HS, Berwyn, Ill.) has been a regular for four years and he will move to 149 pounds this winter. Last year he was 31-9 at 141 pounds and placed second in the CCIW. He enters his senior season with a 55-43 career record. There are plenty of challengers at this weight class with senior Jack Richardson (Grandville HS, Wyoming, Mich.), junior Tyler Hernandez (Bloomington HS, Bloomington, Ill.), sophomore Mitch Musgrove (Orion HS, Andover, Ill.) and freshman Dave Tessiatore (Downers Grove North HS, Downers Grove, Ill.). Hernandez and Musgrove are both letter winners from last year.
157 – Freshman Alex Bowers (Noblesville HS, Noblesville, Ind.) has been impressive during the pre-season. Freshman Walter Piech (Lincoln-Way East HS, Mokena, Ill.) could be used here or move up to 165. Freshmen Kevin Sundberg (Paw Paw HS, Paw Paw, Mich.) and Torey Welch (Valor Christian HS, Littleton, Colo.) will battle Bowers for the top spot.
165 – Junior Matt Burns (Naperville Central HS, Naperville, Ill.), Piech and freshman Thomas Reyhons (Davenport Assumption HS, Davenport, Iowa) are all in the mix for the starting position at 165. Junior Cody Heche (Cary-Grove HS, Cary, Ill.) and freshman Eric Timko (Geneva HS, Geneva, Ill.) provide quality depth although Timko could drop to 157.
174 – Two freshmen will handle this weight class. Seth Whan (Sherrard HS, Viola, Ill.) and Connor Cummings (Downers Grove North HS, Woodridge, Ill.) have both done nice work during the pre-season. Freshman Gary Miller (Columbine HS, Littleton, Colo.) will join the team once football is over.
184 – Sophomore Jordan Richardson (Grandville HS, Wyoming, Ill.) could step into this spot but he will get a fight from Cummings, junior Ian Knepshield (Shady Side HS, Ford City, Penn.) and junior Matt Regnier (Riverside-Brookfield HS, Riverside, Ill.). Both Knepshield and Regnier earned varsity letters in 2010-11.
197 – Junior Hunter Feraco (Gull Lake HS, Battle Creek, Mich.) posted a 24-15 record a year ago and he will be at 197 pounds this year after spending some of his time at 184 a year ago. Freshman Steve Monaco (Stagg HS, Hickory Hills, Ill.) will back up Feraco.
285 – Sophomore Abe Duran (East Aurora HS, Aurora, Ill.) and freshmen John Schraidt (Riverside-Brookfield HS, Riverside, Ill.) and John Seamen (Munster HS, Munster, Ind.) will give Juergens plenty of options at this weight class.