Colleagues remember Dr. Ross E. Paulson
November  02, 2011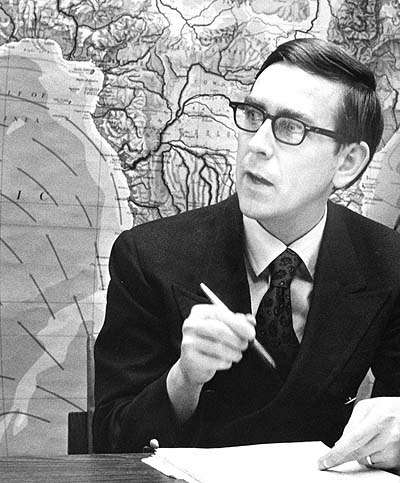 Dr. Ross E. Paulson (Courtesy Augustana Special Collections)
Professor Emeritus Dr. Ross E. Paulson died Oct. 31 in Shakopee, Minn., at the age of 76. Dr. Paulson had taught history at Augustana from 1962 until 1995.
Dr. Tom Tredway, president of Augustana College from 1975-2003, said the college was fortunate to have Dr. Paulson during four decades. "Ross Paulson's strong scholarship and teaching, his leadership in college government, and his deep loyalty to the church made him the very model of what Augustana sought in its faculty," he said.
A graduate of Harvard University, Dr. Paulson specialized in American intellectual history, historiography, European intellectual history and interdisciplinary studies. On campus, he was a leader in the Augustana chapters of Omicron Delta Kappa and Phi Beta Kappa (PBK). He also served as secretary to the Swenson Swedish Immigration Center advisory board, and was involved in the Evangelical Lutheran Church in America at the local and synod levels.
As a child, he was one of the many brilliant "Quiz Kids" of the popular 1940s radio and TV series. As a professor, he was known as a humble, understated and erudite teacher.
Dr. Peter Starenko '87 described Dr. Paulson as being instrumental to his education, which led to a Ph.D. in history from the University of California-Berkeley and a two-year Fulbright Scholarship to research archival materials in Germany.
"He was the first person to teach me how to properly research and organize an analytical essay — I remember writing my paper on the first football game as a metaphor for late 19th-century U.S. nationalism," he said. "More profoundly, he was the first professor to introduce me to original primary sources."
Dr. Starenko, who now teaches history at Lenox Memorial High School in Lenox, Mass., remembered another rite of passage in which Dr. Paulson was a prominent figure. In 1987, he was elected to PBK, which at the time involved a secret induction ceremony in Old Main.
"Dr. Paulson, illuminated by candlelight, was dressed in full regalia as he initiated the new members in the various rights, oaths and pledges of the academic society," he recalled. "I never felt more honored at Augie than when he handed me my PBK key and taught me the secret handshake."
Dr. Ross E. Paulson is survived by his wife, Avis, and their two daughters, Linnea Anderson and Lisa Bauch, and their families. Visitation and funeral services will be held Nov. 12 at St. John's Lutheran Church in Rock Island. (Obituary)