November 1, 2011
2011 Season - Vikings ousted in CCIW volleyball tournament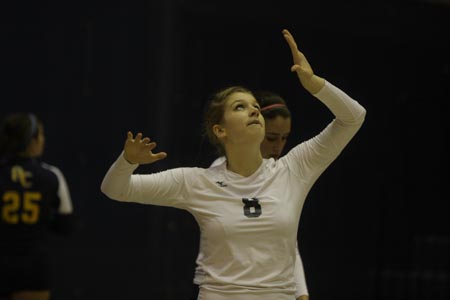 Freshman Blaire Theuerkauf led the Vikings with 33 digs in a 3-0 loss at Millikin in the opening round of the CCIW Volleyball Tournament on Tuesday, November 1.
DECATUR, Ill. - Millikin ended Augustana's 2011 volleyball season with a 3-0 victory in the first round of the College Conference of Illinois & Wisconsin Tournament on Tuesday, November 1 at the Griswold Center in Decatur, Illinois. The Big Blue won by scores of 25-12; 25-14; 25-16 and advanced to the semi-finals on Friday, November 4 in Kenosha, Wisconsin with a 26-10 overall record. Augustana ends its season with a 9-23 mark.
Senior Brianna Skeens (Vernon Hills HS, Libertyville, Ill.) played her final match in a Viking uniform on Tuesday night and she had six kills. That tied her for the team lead with freshman Emily Leazer (St. Viator HS, Mt. Prospect, Ill.). Skeens had two assisted blocks while Leazer had five digs and three total blocks.
Freshman Blaire Theuerkauf (Batavia HS, Batavia, Ill.) posted a team high 33 digs and added four kills and three assisted blocks to the cause. Freshman Stephanie Petkovsek (Lisle HS, Lisle, Ill.) had 13 assists and four digs while junior Kelsey Mikula (Coal City HS, Coal City, Ill.) had seven assists, two digs and one kill.